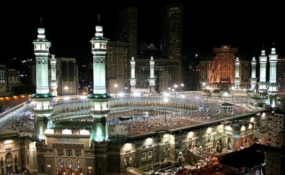 Photo: Leadership
By Rakiya A.muhammad
Sokoto — Federal government should make pilgrimages more affordable for Nigerians by subsidizing the Muslim and Christian pilgrimages, Chairman of Bureau De Change( BDCs), Operators in Sokoto State, Alhaji Aliyu Sahabi Yar-Abba has said.
Yar-Abba suggested 20 percent subsidy.
The chairman who made the call Sunday in Sokoto, also urged the federal government to approve a lower dollar exchange rate for the intending pilgrims.
He noted that this year's hajj fare went to over N 1.5million because exchange rate of N305.
The BDC chairman cautioned members against illegal activities such as dealing in faking currencies, aiding and abetting money laundering.
He observed that foreign exchange market was stabilizing following the injection of millions of dollars into it by the Central Bank of Nigeria( CBN).
The chairman however said CBN should enhance the monitoring of activities of the commercial banks and the BDC operators.