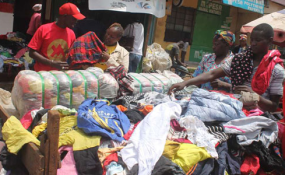 Photo: The East African
opinion
By Alan Tacca
If we are not careful, it may become politically incorrect to call someone an African, because we get worked up over funny things. Take second-hand clothes.
We are told that competition from imported second-hand clothes kills the local textile and garment industry.
Secondly, that wearing second-hand clothes makes us undignified.
First, the competition. Way back in the 1960s, there were already second-hand clothes in our markets. But at least four factories, including the former Nytil, were making cloth for all kinds of uniforms and for low-income people. UGIL was making shirts and bed-sheets; Bata, affordable shoes.
Disruptions caused by armed struggles and confused government economic policies have damaged this sector.
Most of the textile plants were closed long ago. Bata closed its Bugolobi factory and now imports finished shoes.
Thirty-one years in power, longer than all the other post-independence governments put together, the NRM regime is largely responsible for the dismal record.
The lords of Africa's vampire states are extremely lucky, because the vast majority of Africans just do not understand the weirdly complex cumulative process of taxation.
When an average Ugandan is told that (NWSC) tap water is Shs2,716 per unit, plus 18 per cent VAT, they take the figures at face value. So, tax on water is Shs489 per unit. When you conjecture that anything like Shs2,000 (or more) of the Sh2,716 is also a web of taxes, they get puzzled.
If Ugandans decided not to spend on anything for six months, except on the absolute necessities of food and medical care, President Museveni would for the first time beg the citizens, and beg genuinely. He would beg them to resume spending, or he would beg foreign entities to bail out his regime.
The process of revenue-in/revenue-out can only endure so much abuse. But Uganda is like a hostage held by 10,000 prodigal sons. When the vampires plunge their fangs into the process, revenue-in must be accelerated to counter the haemorrhage.
The thefts condemn us to infrastructure decay and socio-economic injustice. But the post-theft activities also (paradoxically) add to GDP! That is one reason GDP measurements are misleading.
More significantly, excessive taxation makes industrial production uncompetitive, while the illicit rewards of the vampires leave the country's genuine workers demoralised and tempted into shop-floor dishonesty.
When BAT and Chillington closed their Uganda-based plants, it was not because traders were importing second-hand cigarettes and farm hand-tools.
Nor did the 'AGOA' garment makers fail because competitors were exporting used clothes to the USA.
The prices of some of the stuff made in Uganda are only viable because of prohibitive tariffs slapped on imported alternatives.
For investors to get interested at all, the government is often caught fumbling with land donations and other subsidies disguised as 'incentives'. In this environment, when the lowest paid workers can barely feed themselves, banning second-hand clothes is to wish that they go naked.
Health concerns: Are these garments safe? Heavily treated with disinfectants before shipping, then properly washed and ironed before you use them, they could be safer than habitually eating your roasts and 'rolex' eggs from roadside vendors.
Remember, some couples go for their weddings in rented (therefore used) outfits.
And if you pay your young state-attorney around Shs700,000 ($200), how will he buy enough dark suits without visiting Owino Market - or taking bribes?
With the exception of president Uhuru Kenyatta, whose father ruled Kenya and made his family filthy with money, the presidents of the other East African states (and/or their spouses) probably sometimes turned to used clothes before they became big people.
Moreover, even today, in 5-star hotel suites when they are travelling, I believe these great men sometimes sleep between bed-sheets where another ruler, an oil sheik or a mafia gangster may have slept; unless they now so thoroughly despise or fear other human beings that they always travel with their own bedclothes.
In First-World Denmark, there is a serious environment-friendly business model, in which you can rent clothes for a few months, especially for fast-growing children. So some of those prosperous Danes are discovering advantages in what some beggarly Africans think is below them.
Mr Tacca is a novelist, socio-political commentator. altaccaone@gmail.com.