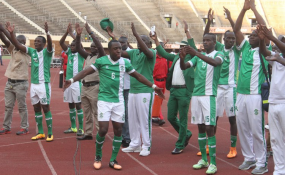 Photo: The Herald
By Robson Sharuko
CAPS United, powered by one of the best attacks in the 2017 CAF Champions League, will have to do what no other club, either domestic or foreign, has managed to do in the past eight months beating Algerian giants USM Alger in their backyard to clear the final hurdle on Sunday and qualify for the quarter-finals.
The Green Machine showed an indomitable spirit, in a pressure swim-or-sink showdown without any margin for error on Sunday, to hand five-time African champions Zamalek their biggest Champions League defeat since the Egyptians slumped to a 0-3 loss at the hands of Mamelodi Sundowns in the first leg of this tournament's final in Pretoria on October 15 last year.
The three goals Makepekepe scored on Sunday, where anything other than a victory would have ended their interest in this Champions League, marked the first time Zamalek have conceded more than two goals in this tournament since that meltdown in the first leg of last year's final in Pretoria nine months ago.
CAPS United also took their Champions League group games tally to nine goals in five matches, at an average of almost two goals a game, and only Tunisian giants Etoile du Sahel with 10 goals, helped in a big way by their 5-0 massacre of Ferroviario de Maputo in the first game of Group A, have scored more goals than the Green Machine.
Al Ahli Tripoli have also scored nine, the same number of goals CAPS United have scored, with Lloyd Chitembwe's men playing a big part in helping the Libyan side soar this high after leaking eight goals against them in back-to-back battles in this tournament.
Makepekepe have scored more than double the number of goals Zamalek, with their multi-million dollar strikeforce, have scored (four) and have scored about double the number of goals Sundowns, with their multi-million rand strikeforce, have also scored in their group matches.
CAPS United, whose attack has at times been sharply criticised back home as being toothless, and crippled by the prolonged absence of injured veteran Leonard Tsipa, has scored as many goals -- in the group matches -- as the combined total of the two teams that featured in last year's Champions League final, Sundowns and Zamalek.
The Green Machine have outscored all the Group C teams -- Sundowns, Esperance, Saint George and AS Vita -- and all the Group D teams -- Zanaco, Waydad Casablanca, record African champions Al Ahly of Egypt and whipping boys Coton Sport of Cameroon -- and among the 16 elite clubs in this year's Champions League, only Etoile du Sahel have scored more.
CAPS United's remarkable firepower can be illustrated by the fact that while they have scored nine goals, the other members of Pot D, which featured the clubs considered the lightweights during the draw for the group stages, have failed to outscore the Green Machine's impressive tally in their combined total.
Saint George of Ethiopia have scored only two goals, Ferroviario de Beira of Mozambique have scored only three goals while Zanaco of Zambia have just four goals to their credit which means the three teams have scored a combined nine goals, the same number of goals Makepekepepe have scored in their group games adventure.
Incredibly, roving wingback Ronald Pfumbidzai, who has scored three goals in his team's last three Champions League matches, has scored more goals, on his own, than the entire St George team with their two goals and as many goals as Ferroviario de Beira, as a team, have scored in their five group games.
Both the Egyptian giants Al Ahly and Zamalek, who have scored four goals each in the campaign to date, have scored just one more goal than Pfumbidzai as an individual in the five group matches of this year's CAF Champions League.
Pfumbidzai has scored three times the number of goals that Coton Sport, the Cameroonian side that lost in the final of the 2008 Champions League, have scored in their five matches, and the entire Sundowns team, who are the defending champions, have scored just two goals more than what the CAPS United wingback has scored.
But, the bigger picture for CAPS United -- who have eliminated five-time champions TP Mazembe and thrashed five-time champions Zamalek at the National Sports Stadium in this year's Champions League -- is to try and qualify for the quarter-finals of the tournament for the first time in their history.
And, to do that, Chitembwe and his men need to move mountains and win in Algiers on Sunday before an expected 64 000 screaming fans at the July 5, 1962 Stadium -- the same fortress where Blackpool's Cup Winners Cup dream ended in the semi-finals at the hands of JS Kabylie in 1995.
USM Alger usually play their home matches at their 12 000-seater Omar Hamadi Stadium, but host the big derbies and Champions League matches at the 64 000-seater July 5, 1962 Stadium in Algiers where their last match was an explosive North African derby against Zamalek which the Algerians won 2-0.
A CAPS United victory in Sunday's showdown in Algiers will take the Green Machine into the quarter-finals, irrespective of what happens in the other match between Zamalek and Al Ahli Tripoli, with both matches starting at 9pm.
USM Alger, too, can also qualify -- even if they fall at the hands of CAPS United -- in the event Al Ahli Tripoli lose against Zamalek in Alexandria because the Egyptians can't qualify ahead of the Algerians, in the event they end up with the same number of points, due to an inferior head-to-head record.
Zamalek will also qualify if they beat Al Ahli Tripoli in the event the Green Machine don't beat USM Alger in Algiers.
But can CAPS United do it?
It's not easy because, already, in the Champions League group stages, USM Alger have scored five goals (beating Al Ahli Tripoli 3-0 and Zamalek 2-0), in their Algiers backyard without conceding a goal.
The Algerian giants are unbeaten at home since November 5 last year when they went down 0-2 to USM El Harrach in a league match.
They have played 14 matches, both domestic and international, since then and won 12 and drawn two against MC Alger and DRB Tadjenanet, half their opponents have failed to score and they have been ruthless in recent matches with a 5-2 victory over JS Saoura, a 6-2 thrashing of USM Bel Abbes and 3-0 wins over Al Ahli Tripoli and CA Batna.
CAPS United fans, who saw their proud home record smashed by A Ahli Tripoli, will tell you there is always a first for everything and, with an attacking team like the one they have, which could have scored six goals in that first half against the Libyan side in Tunisia, who can accuse them of chasing a wild dreaming?