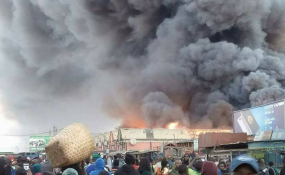 Photo: Zambia Reports
By Chris Phiri
The suspicious outbreak of fires to public property has continued with City Market also adding to the long list of places being damaged.
The cause of the fire is yet to be established but the country has become accustomed to suspicious acts of arson.
Goods worth millions of kwacha have gone up in flames.
Lusaka City Market has gone up in flames in unknown circumstances.
The country's biggest and busiest market is one of the many public and private buildings to have been set ablaze in recent months.
Police spokesperson Esther Katongo confirmed the fire saying her men were on the ground to ascertain the cause of the disaster.