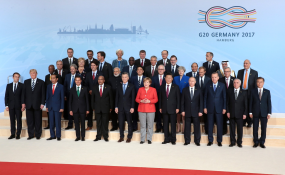 Photo: Wikimedia
The German Federal Ministry for Economic Cooperation and Development (BMZ) under the guidance of the German Association for International Cooperation (GIZ), representatives from Ugandan government and private companies collaborated with industry experts to generate new business ideas under the Lab of Tomorrow workshop aimed to solve Uganda's energy needs.
"African economies are gaining ground and can develop their full potential with the right partner. Siemens wants to support their sustainable development - with solutions and projects in Africa, for Africa", comments Sabine Dall'Omo, CEO Siemens Southern and Eastern Africa.
"Our participation at this workshop is a follow-up from the memorandum of agreement signed at the World Economic Forum on Africa where we committed to focus on infrastructure investments and partnerships between public and private companies. In Uganda, Siemens' primary goal is to assist the government to increase national power generating capacities and to connect the local population to the power grids. A reliable and extensive power supply system is the fundamental prerequisite for sustainable development, economic growth and job creation."
Sabine Dall'Omo said: "Uganda is a stable country, well integrated into the East African Community. Their economic development is promising and government is carrying out policies to attract business and to create an environment that is conducive to more investment."
Gunter Nooke, BMZ's Commissioner for Africa congratulated the participants of the workshop on the innovative ideas generated. "Energy is high on the German agenda, and in particular finding innovative solutions for energy challenges. This workshop enabled us to get a better understanding of the unique challenges that the people of Uganda are facing. This is only the starting point; the challenge is now to turn the ideas into viable business solutions. The BMZ is fully committed to support this process and we look forward to working with public and private companies, like Siemens, to implement solutions that will lead to sustainable development."
Siemens is in the process of establishing a permanent office in Uganda to serve as a base for long term collaboration with Ugandan public and private entities. In a further initiative Siemens is joining the Make IT Alliance of the German Federal Ministry of Economic Cooperation and Development to promote start-ups and technology companies across the African continent.
Following the Lab of Tomorrow workshop, the GIZ will facilitate the testing phase of the business cases presented and this could ultimately lead to the implementation of projects that will provide access for affordable and reliable energy solutions for Uganda.