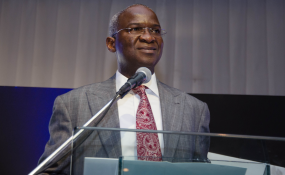 Photo: Premium Times
By Musa Abdullahi Krishi
The House of Representatives has invited the Minister of Power, Works and Housing, Babatunde Fashola, for alleging that the National Assembly tampered with his ministry's 2017 budget proposal.
The minister had a fortnight ago accused the lawmakers of 'doctoring' the ministry's budget and "inserting frivolous projects."
But the House, while adopting a motion by Abubakar Sadiq (APC, Adamawa), described the minister's assertion as baseless, and "breach of parliamentary privileges and incitement of the citizens against the legislature."
The lawmakers constituted an ad-hoc panel to be led by Aliyu Sani Madaki (APC, Kano) to engage the minister and report back in two weeks.
"I'm aware of meetings, where the minister was in attendance and it was agreed that certain basic things needed by the people will be put in the budget. So for me, it was highly out of place for the minister to question the powers of the National Assembly to introduce people-oriented projects in the budget," Sadiq said in his motion.
Other lawmakers who spoke said Fashola must be called to order.
Before ruling on the matter, Speaker Yakubu Dogara said some officials in the Executive arm speak without considering the position of the Constitution.