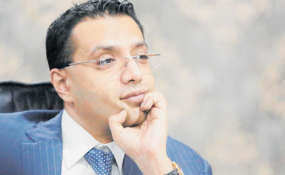 Photo: The Citizen
By Rosina John
A Lawyer representing the business tycoon Yusuph Manji who is currently being held by the police force has rushed to the high court seeking his client to be released or charged at the court.
Advocate Hudson Ndusyepo who is representing Mr Manji and his co-suspects Deogratius Kisinda and Thobias Fwere, filed an application at the High Court yesterday asking the higher authority to intervene in the matter, preferably to order the release of his clients after being held at the central police station from Saturday without being arraigned to court nor granted bail.
However, according to advocate Ndusyepo his client, Mr Manji is currently at Muhimbili National Hospital getting treatment while under police supervision.
This is the second time for Mr Manji to file such an application within this year, asking the court to order the government to charge him to the court after being held for several days, of which the first time was in March this year where he was being held by the immigration department in Dar es Salaam for several days due to the issues of his citizenship.
However, on the day of the hearing of his application before judge Ama-Isario Munisi, his lawyers informed the court that his client had already released by the immigration and asked to withdraw the application.
Mr Manji and his co-suspects are currently held by the police forces for allegedly being found in possession of JWTZ official uniforms.
The lawyer filed the application yesterday against the Attorney General (AG), Inspector General of Police and Zonal Crime Officer.
According to the affidavit supporting the application which is sworn by his advocate Mr Ndusyepo, he told the court that, the applicants were arrested in different time and being held by the zonal crime Officer.
According to the affidavit, Mr Kisinda was arrested on June 30 2017, meanwhile Manji was arrested on July I at the Quality Centre building and all are still being held by the police forces until now.