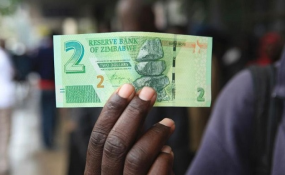 Photo: The Herald
The government must deal with its excessive expenditure instead of printing more bond notes, Tendai Biti's People's Democratic Party (PDP) has said.
Party's spokesperson Jacob Mafume said the recently announced intention to extend the bond notes facility is "both worrying and a sign of government's failure" to deal with the country's cash crisis.
He said extension of the facility will only serve to deepen the economic challenges faced by Zimbabweans.
"The point we make is that as long as there is fiscal indiscipline, the problem will not only remain but will exacerbate, digging the economy into a bottom less abyss," Mafume said in a press release.
He added, "The situation at banks has not improved; people continue to sleep on queues while accessing funds through withdrawals has since been turned into a lottery."
"Bond notes have served to create serious distortions in the economy, some shops display different prices for the United Stated dollar and for the bond note."
The notes were introduced in November last year, despite public resentment marked by street protests, to easy biting cash shortages.
Although the surrogate currency initially seemed to be a working remedy trading at par with the US dollar, the situation has since reversed with the cash shortages worsening.
Banks have resorted to imposing cash withdrawal limits at a time the public is still forced to deal with various challenges regarding us of plastic money which include network failures.
Monetary authorities have blamed the crisis on citizen's cash hoarding tendencies and a huge civil servant's bill.
While recommending the cutting down of the executive travel bill, Mafume said, "Introduction of the bond note has since resulted in the spikes of prices including basic commodities.
"Zanu PF now creates another conspiracy; they now argue that bond notes have not brought results because they are also finding their way through the borders to neighbouring countries."
He added; "The question would be why are Pulas or Kwachas not finding their way into our country, considering that Zimbabwe already adopted a multi-currency regime?
"The government needs to stop this story telling madness but accept the truth that the several trips that the executive is taking, ghost workers and allowances for the elites are taking a toll on the fiscus."
The liquidity challenges have also constrained local industry's production capacity as most companies have to import some raw materials.