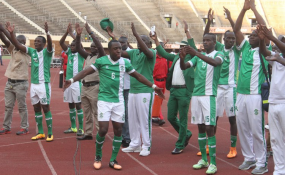 Photo: The Herald
By Eddie Chikamhi
CAPS United believe they have left no stone unturned in their preparations for the winner-take-all clash against Algerian giants USM Alger set for this Sunday in Algeria. The Green Machine delegation leaves for the North African country today for what is supposed to be their biggest game of the CAF Champions League group phase in their hunt for a quarter-final place.
This afternoon they begin a 19-hour journey which takes them through Ethiopia, Italy and then arriving in the Algerian capital around 10am tomorrow. CAPS United had their last training at home yesterday, with the coaches impressing on the players the need to focus on the task on their hands.
They have the belief, especially with the knowledge that they won the reverse fixture 2-1 at the National Sports Stadium.
Makepekepe are currently sitting on third place in the group with six points to their credit, while their opponents USM Alger lead the race with eight points.
Libya's Al Ahli Tripoli are second with eight points as well and they will travel to Egypt to face basement side Zamalek, who have five points.
The matches will kick-off simultaneously at 9pm on Sunday night. Assistant coach Fungai Kwashi yesterday said the Harare giants were a determined lot following their brilliant win over Zamalek, which revived their hopes last Sunday.
"The guys know what's at stake and we have a good leader in Lloyd Chitembwe.
"He's been calming the nerves of the players. The good thing is that both of us have played international football before we became coaches.
"So we know what's at stake and we know how the players feel because we have been in those situations before. But the most important thing is making sure that everyone gives his best. Every game is a new game and those guys will be raring to go as well because it's a winner-take-all.
"We beat them at the National Sports Stadium, but that's already water under the bridge.
"This is a new battle and with the grace of God and His favour, the Green Machine will prevail.
"We remain hard working, we remain focused and we are not taking anything for granted.
"At this level of football you need to remain level-headed because we are playing high quality opponents," said Kwashi.
Makepekepe will have at least two days to acclimatise before match day.
Big goalkeeper Edmore Sibanda is likely to miss this match again.
The spirits were high at the training ground and the CAPS United leadership have been working round the clock to avoid distractions.
"We are really focusing on our next task against USM Alger, which should be a very tough game. We are excited about it, we are excited about being in the Champions League.
"We have already achieved the set targets which were there for us. Winning the league last year, qualifying for the Champions League and reaching the mini-league.
"So we are happy for the football club, for the supporters and our sponsors. We keep working hard and we are looking forward to this exciting battle in Algiers on Sunday," said Kwashi.
CAF have appointed top Senegalese referee Malang Diedhiou to handle the match.
Diedhiou will be assisted by countrymen Djibril Camara and El Hadji Malick Samba.
CAPS United need a straight win to stand a chance of progressing to the quarter-finals.