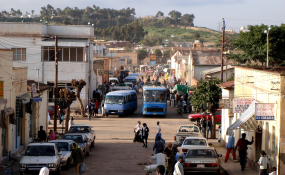 Photo: Jacapo
opinion
By Desta Gebrehiwot
As it has already been engaged in constant feuds with almost all neighboring countries, Eritrea's recent aggression against Djibouti, a country that amounts to Ethiopia's national interest, did not come as surprise. But what is at stake is how would it impact the region and what measures could be put in place?
The Horn of Africa has been under a cloud of uncertainty on account of what the Eritrea's regime might do next. Following the sudden withdrawal of Qatari military personnel from the disputed area along the Eritrean-Djibouti border, Eritrea was quick to move its troops raising tensions in the region once again.
The Horn of Africa is featured with paradoxical development with Ethiopia trying to push for regional integration while Eritrea appears 'worrying factor' to disintegrating the region as it once again demonstrated its provocative act by moving troops to the disputed territory with Djibouti.
Eritrea is adding fuel to the ongoing crisis in the region by arming insurgents while Ethiopia is trying to restore peace and stability by deploying peacekeeping force, a clear manifestation that the region is going through contradictory features, tells The Ethiopian Herald Jima University Governance and Development Studies Head Fekadu Tolcha.
The Asmara regime for long has been trying to exploit every available opportunity to destabilize the region and its actions have already appeared to be its unique character though they have mostly not been met with strong responses.
But, the recent Eritrea's aggression against Djibouti may draw various actors into the scene particularly Ethiopia whose bilateral relation with Djibouti has reached a point of climax. Anything related with Djibouti is a source of concern to Ethiopia, says Political Analyst at Ethiopian Foreign Relations Strategic Studies Institute Abebe Ayenete.
Eritrea's any kind of aggression against Djibouti is a worry to Ethiopia. Djibouti is nothing less than a national interest for Ethiopia due to its economically preferable port.
With Ethiopia's 95 percent import-export passing through the port of Djibouti, the incursion is a direct attack to Ethiopia's economic interests.
Ethiopia should then be cautious and vigilant in following every development around the Eritrea -Djibouti border, in fact the whole region, says Kahsay Gebreyesus, a Regional Analyst and Researcher.
Djibouti is a pipeline for importing consumption commodities to Ethiopia. Any move to damage or compromise the sovereignty of Djibouti should be treated as damage to Ethiopia, corroborated the fact Former FDRE President Negaso Gidada.
On the other hand, Djibouti's economy is very much dependent on Ethiopia's GDP performance, while the former's security really matters for the foreign direct investment coming into Ethiopia. In this regard, Ethiopia needs to push for political integration with Djibouti in addition to the growing economic ties, Fekadu suggests.
While Ethiopia has issued statement calling for calm and restraint, Foreign Affairs through its spokesman Melese Alem announced recently that it is closely following the matter and will come up with any further measure or stand depending on the reports the AU deployed Fact Finding Group would come up. With Eritrea denying access to the group, it is not clear what the lax continental bloc would do next.
Some consider Eritrea's belligerent behavior as nothing but attention diversion mechanism to settle its internal matters as good news is in a short supply in the country.
"As the political term, particular regional security complex demonstrates, regimes with no strong base find themselves in unsecured position to create a stable country. That is why they try to instigate violence and get into conflict with neighboring countries, which typifies the Eritrean regime," notes Fekadu.
Eritrea has had skirmishes and fractured its relations with almost all neighboring countries. Its recent aggression is nothing but a [desperate attempt] to heal the rifts among its people and unite the country, added Fekadu.
A mediation effort by the Qatari government in 2010 led to the deployment of its peacekeeping force in the disputed area.
Mediating and monitoring border crisis should have been the role of regional and continental blocs, as unilateral effort has not brought about lasting solution. In fact it was up to the African Union to deploy peacekeeping force in disputed borders at the first place. Unilateral solution is less effective and could not last long as the case of Qatar, says Abebe.
Any peacekeeping mission should meet international standards and be carried out under the umbrella of regional blocs.
True that, ongoing efforts have been successful to prevent any practical war or exchange of fires between Eritrea and Djibouti but there must be other timely and effective measures. On the sideline of the 29th AU summit, Djibouti officially requested union to fill the vacuum left by Qatari's withdrawal. But it is not clear what the continental bloc would do next.
While waiting for the union's measure, Ethiopia needs to work closely with international and continental blocs to find diplomatic solution. The country should also use its leverage as a non-permanent member at the UN Security council to embolden member of the council to be tough on Eritrea; not only for its aggression against Djibouti but also to its years of destabilizing role in the region, underlined Abebe.
Deploying peacekeeping force could still be a solution but this might not be the case, says Kahsay who also believes that Eritrea is not leaving the disputed border any time soon as the Asmara's regime proved the other way in its previous actions, added Kahsay.
The 'No Peace and No War' scenario is also no longer profitable for Ethiopia which is trying to foster its economic development. "Arming and monitoring the military personnel guarding the disputed territory along the Ethio-Eritrea border could be costly. So, Ethiopia should make a policy change. Particularly the government needs to reconsider the current policy with something new that at a time stops the provocative actions of the Eritrea regime but promotes smooth relation with the people of Eritrea." Kahesay said.