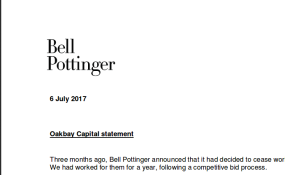 Photo: Screenshot
Public relations firm Bell Pottinger has apologised for the work they have done with the Gupta family and Oakbay Capital.
In a detailed statement issued on Thursday, the company said it took decisive action to not repeat previous mistakes.
"At various points throughout the tenure of the Oakbay account, senior management have been misled about what has been done. For it to be done in South Africa, a country which has become an international beacon of hope for its progress towards racial reconciliation, is a matter of profound regret and in no way reflects the values of Bell Pottinger," it said.
Source: News24