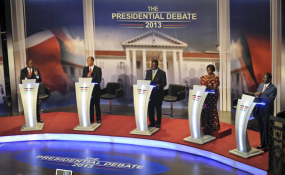 Photo: Capital FM
By Racheal Mburu
Nairobi — The High Court has dismissed a petition filed by presidential candidate Abduba Dida seeking to have the presidential debates stopped if not all eight candidates are allowed on the same platform.
Judge Joseph Mativo has dismissed his case after finding that it does not constitute discrimination for the organisers of the debate to separate the candidates into two groups for the purposes of the debate.
The judge has found that Dida has the option of opting out of the debate if he is not happy with the arrangements adding that they do not in any way prohibit him from articulating his agenda.
Dida had argued that the differentiation of the candidates on the basis of the popularity for the purpose of the debate qualified as discrimination.
The effect of the ruling is that the organisers of the presidential debate can now proceed with their original plan to give President Uhuru Kenyatta and Opposition leader Raila Odinga an exclusive debate platform.
Earlier this week they both opted out of the debate taking issue with the format presented to them and protesting the short notice given.
Odinga's Senior Advisor Salim Lone said they were not amenable to debating all seven presidential candidates at the same time as it would cease to be a debate and turn into a public baraza given the limited prime time available.