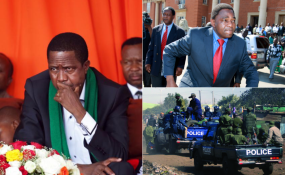 Photo: allafrica.com
Zambian President Edgar Lungu has defended his decision to invoke a state of emergency in the southern African nation, saying he was "ringing sanity to the country".
President Lungu held a press conference in Lusaka on Thursday and struck a defiant posture, 24 hours after invoking a constitutional provision that paved the way for a state of emergency.
Lungu warned that those who thought he was turning into a dictator failed to grasp the gravity of the security situation in the country.
"Zambia is the most accomplished democracy in this region or the whole Africa. If this is dictatorship, then there is no democracy in Africa," he said.
"I know that people think I am targeting political players, I am not targeting any political player. I am only trying to bring sanity," he added.
The proclamation of conditions that paved the way for a state of emergency will be reviewed by parliament within seven days.
Disputed elections
Notably the Zambian parliament was dominated by the ruling party, with the bulk of opposition members of parliament serving a one month suspension after having boycotted Lungu's address to parliament in March.
The rivalry between Lungu and main opposition leader Hakainde Hichilema has driven the traditionally peaceful country on the brink of division following disputed elections in August last year.
Confirmation of the state of emergency was a foregone conclusion, given that the ruling party controlled the national assembly.
Lungu said that the police had been given wide ranging powers to deal with suspected criminals believed to be behind a spate of damage to public property.
On Tuesday the country's largest market was burned down within the city centre, with Lungu promising to hunt down the perpetrators.
News24