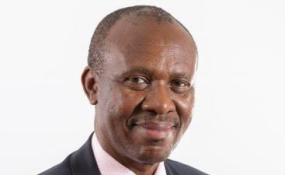 Photo: Moses Kgosana
By Marianne Thamm
The fallout from KPMG's association with the Gupta-owned Linkway Trading, implicated in laundering R30-million in public funds to pay for the family's 2013 Sun City nuptials extravaganza continued this week as former KPMG Africa CE, Moses Kgosana, resigned from his new job as chairman of Alexander Forbes. Past accusations that KPMG copied and pasted findings of an investigation conducted for SARS on the so-called "rogue unit" and which cost taxpayers R23-million have also resurfaced. That investigation recommended that Pravin Gordhan be probed. What should happen to KPMG South Africa? Chair and Chief Executive of Pan-African Investment and Research Services, Dr Iraj Abedian, has strong views on what should happen to KPMG as well as the systemic effect the current case being investigated by the Independent Auditors' Regulatory Board (IRBA) has and will have on the South African economy.
"The South African IRBA now has to show its teeth, otherwise the entire audit industry will be left under a cloud of suspicion hereafter. This is a serious matter. A slap on the wrist is not going to do it," Abedian told Daily Maverick.
Xanti Payi, economist and head of research at Nascence Advisory and Research, told Daily Maverick...