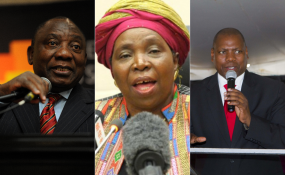 Photo: allafrica.com
analysis
By Andile Lungisa
The African National Congress, both as a liberation project and governing party, faces daunting challenges.
Changes in the strategic environment deamand a rethinking and deliberate balancing. The strategic rebalancing needs to give way to a dialogue over ideas to manage the multiple dilemmas that blight our national life, a stagnant (now recessionary) economy dominated by racialised cartels, and emboldened reactionary forces buoyed by electoral fortunes.
However, a culture of pornographic and unproductive factionalism has become all-consuming within the ruling party, forestalling an imminently cardinal engagement within the organisation, and is devouring the body politic of the sole instrument of African people's emancipation.
At the heart of the internecine antagonism between the myriad factions is control over state institutions. The state is seen, by the contending factions, not as a site of production of history but rather as a site of accumulation.
The abolition of the colonial-apartheid system of governance and its attended institutions did not resolve the conflict between the social democratic idea, as expressed in the National Democratic Revolution, and the reality of largely racialised social divisions. A great deal of work remains to be done. There still remains an urgent need to achieve an estate of equal citizenship...