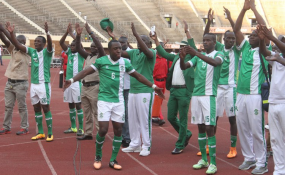 Photo: The Herald
By Grace Chingoma
CAPS United skipper Hardlife Zvirekwi says their winner-take-all clash against Algerian giants USM Alger on Sunday could be a defining match in the history of the Green Machine, who are seeking a CAF Champions' League quarter-final place. The match starts at 9pm.
Makepekepe beat USM Alger 2-1 at the National Sports Stadium in May courtesy of a superb double strike by forward Ronald "Rooney" Chitiyo.
A victory in Algiers, where all their Group B counterparts Zamalek and Al Ahli Tripoli have not only fallen, but failed to score this term, could hand CAPS United a ticket into the last eight.
Zvirekwi said a lot had changed since the two teams last met in Harare.
He was speaking at Harare International Airport just before the team left the capital for Algiers yesterday.
The Green Machine were seen off by a group of their faithful supporters, the players' wives as well as kids.
Club president Farai Jere was also at the airport to wish his boys well as they embark on a 19-hour journey which will take them through Ethiopia, Italy and then arriving in the Algerian capital around 10am today.
The head of delegation is ZIFA councillor Austin Chishanga who has always claimed he is the lucky charm for Zimbabwean clubs because they usually do well when he leads them.
"Obviously it's a big game for us as a team. The boys are psyched up. Morale is high and everyone wants to give it their all," said Zvirekwi.
"We managed to put ourselves in a good place by winning over the weekend.
"We are happy with that and what we have achieved so far. But we want to keep doing well and continue playing in this tournament."
The Warriors defender said their opponents probably did their homework after the loss in Harare and, judging by their results, have probably been the most competitive side in Group B.
"When we played them here, they didn't know much about us. Now it will be a different ball game.
"We have played a lot of games since that game," said Zvirekwi.
"It is going to be a difficult game, but we will compete and fight for a positive result."