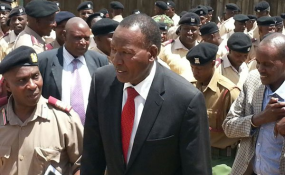 Photo: Georgie Sayagie/Daily Nation
By John Kamau
Joseph Nkaissery was the face of security -- nobody could second-guess him, and nobody saw his death coming.
But on the early morning of Saturday, the man who was to oversee Kenya's internal security some four weeks to the General Election, suddenly died.
Maj-Gen (rtd) Nkaissery was the third minister for Internal Security (renamed Interior ministry) since independence to die in office.
Before him was Mr James Gichuru in 1982, and Prof George Saitoti in June 2012.
His death also came before the burial of a former holder of the same docket, Mr G.G Kariuki, who died early this week.
COMPLEX
Like his predecessors, Nkaissery was loved and hated in equal measure. His docket was complex, too.
Since independence, some of the department's office holders were so powerful that they reported directly to State House instead of to the Cabinet minister.
It was something Mr Kariuki talked of in his biography, Illusion of Power.
"I soon realised that my authority was theoretical, and far from reality," he wrote.
REAL POWER
But those close to Nkaisserry say he exercised real power.
Because of his military background, he loved heavy-handed tactics to secure the nation and he made sure everyone understood he had a duty and obligation -- the same way Michael Chertoff and Tom Ridge, his equivalent in President George W. Bush years - took their duties with gusto shortly after Mr Bush created the $40 billion a year department in 2002.
Others before Nkaisserry who equally left a deep legacy are Dr Njoroge Mungai, Mr John Michuki, Mr G.G Kariuki, Mr Justus ole Tipis, Mr Jackson Angaine, Mr Jackson Kalweo, Mr James Gichuru and Dr Chris Murungaru.
BROAD TERMS
Looking back, Nkaissery's crackdown on al-Shabaab was in broad terms similar to the challenges that Richard Turnbull faced in 1954 when, as the colonial Minister for Internal Security and Defence, he faced the Mau Mau crisis.
Or to the 1960s when Dr Mungai was trying to win the Shifta War by launching blitzkrieg attacks against the secessionists, Northern Frontier District Liberation Movement.
Nkaissery was appointed to the docket after the former holder, Mr Joseph ole Lenku, lost credibility following incessant attacks by al-Shabaab militants in Nairobi, the worst being the handling of the Westgate Mall siege of September 2013 when terrorists left at least 67 people dead.
SANITY
The retired major-general's efforts to return sanity to northern Kenya were similar to those of his predecessors, who bore the brunt of accusations later on.
For instance, Mr ole Tipis and Mr Kariuki are often accused of spearheading several massacres in the region.
By running a budget of at least Sh140 billion, Maj-Gen (rtd) Nkaissery was arguably in a big docket, and became the most powerful insider in President Uhuru Kenyatta's government.
His equivalent was perhaps Mr Michuki, the man who rode the docket like a colossus as he came face to face with the Maina Njenga-inspired Mungiki crisis which had threatened to get out of hand.
MURDERS
Before he issued shoot-to-kill orders on suspected Mungiki followers, the group had by 2007 been accused of a series of murders in Central Kenya and Nairobi, thought to be revenge attacks on people who had leaked information about their activities to the police.
Following the order, many Mungiki leaders were shot dead and human rights groups accused Mr Michuki of conducting extra-judicial killings.
Mr Michuki, like Maj-Gen (rtd) Nkaissery, was always classic in his replies: "I do not accept reasons advanced for the existence of the sect, and unemployment cannot be used to justify these crimes," said Mr Michuki.
It was the same thing that Maj-Gen (rtd) Nkaissery would say of al-Shabaab when he defended the police after they were accused of extra-judicial killings.
CONTROLLING CRIME
"The allegations are clearly unsubstantiated and given in bad faith to undermine the efforts made by police and other security agencies in managing and controlling crime," he said.
That he managed to tame the rising al-Shabaab threat in both Nairobi and the Coast is evident by the diminished number of attacks -- and the rise of soft targets in Lamu and parts of northern Kenya like Mandera.
It was during his tenure that Operation Linda Boni was launched after it emerged that the terrorists were using Boni Forest at the Coast as their training ground.
A similar challenge had faced Prof Saitoti, Mwai Kibaki's minister for Internal security, when he was confronted with the Sabaot Land Defence Forces shortly after the country overcame the post-election violence of 2008.
DISPLACEMENT
It was a crackdown that is thought to have left tens of people dead -- but it stopped a large-scale displacement and death of residents.
"Had we not taken a very firm position," Prof Saitoti told Parliament, "I can assure you that the situation would have been very bad up there."
Because of his docket, Nkaissery rubbed the opposition the wrong way -- and they never hid their criticism, especially since he was "poached" from their camp as Kajiado Central ODM MP.
Only last month, the CS warned the National Super Alliance presidential candidate Raila Odinga that he could be arrested for inciting the Maasai in Kajiado -- something the opposition dared him to do.
CAMPAIGN TRAIL
Last year, as the opposition pushed for changes in the Independent Electoral and Boundaries Commission, Nkaissery warned that the police would not hesitate to use force.
"We have enough teargas," he said.
Unlike many of the cabinet secretaries in the Jubilee administration, Nkaissery was a politician too... and he never shied away from speaking his mind and plunging himself into the campaign trail.
As leaders unite to mourn him, the story of how he ran his docket is yet to be written.
His close allies say he was a stickler for the rules and, once he thought he was right, nobody could change his mind.
That is characteristic of past holders of that docket.