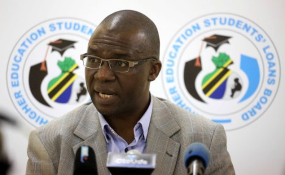 Photo: Daily News
The Higher Education Student's Loans Board (HESLB) has increased loan recovery to 12bn/- monthly this year from only 3bn/- at the close of the 2015/16 fiscal year.
The HESLB Director of Education, Information and Communication, Mr Cosmas Mwaisoba, said at the ongoing Dar es Salaam International Trade Fair (DITF) that the amendment of the law opened a new chapter and boosted the collections.
"It is a huge improvement in the repayment of the students loan," he said, adding that the amendment increased the deductions to 15 per cent of the individual's total income or salary from 8 per cent, making the deductions statutory.
When it reaches an optimal level, the board is expecting to collect between 20bn/- and 25bn/- per month, to make an annual collection of around 300bn/-. Mr Mwaisoba said there has been a positive response from employers in disclosing the names of their employees who are graduates.
The employers are also making deductions in conformity with the requirements of the new law. "The employers' obligation is to disclose the details of the employees whether they are graduates or not and the board's task is to determine whether they are beneficiaries," he said.
"Where an employer fails to notify the board without reasonable excuse that he has in his employment a beneficiary within a specified period, that employer commits an offence and shall, on conviction be liable to a fine of not less than one million shillings," reads part of the amendments.
Similarly, the board has been receiving and launching investigations of all the complaints from individuals to ensure that justice is done. He said in the year 2017/18, the board's priority is to increase loan recovery collections that will further boost the revolving fund.
Also, he said the board will ensure that students with all the qualifications access loans. "The board will enhance strategic partnership with key stakeholders like the pension funds, Tanzania revenue body, the National Identification Authority to ease the process of loan recovery," he noted.
Since taking office a year ago, President John Magufuli shook up the HELB administration to bring about effectiveness in collecting debts from beneficiaries and control fraudulent expenditure.
The list of beneficiaries, who have not repaid their loans, include those who took loans between 1994/95 and 2005, when the then Ministry of Higher Education was charged with the role of issuing loans to students.