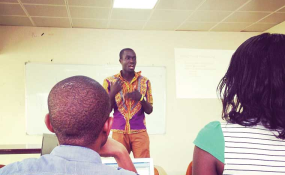 Photo: The Observer
By Sheila Gashishiri
It is not every day that you meet a 25-year old Ugandan pursuing a PhD. But MOSES NAMARA is not any 25-year old. Sheila Gashishiri writes about this award winner who is making waves internationally.
My average impression of a 25-year-old is of one in the prime of their life, largely still discovering themselves. And when it is a male, expect to find one who is usually labelled exhausting, rampant, irresponsible and a road rage lout. However, Moses Namara defies all these descriptions.
Namara, now pursuing a PhD in computer studies at US-based Clemson University in South Carolina, is one of the two lucky winners of the prestigious Facebook emerging scholars' award.
He recently beat thousands to scoop the award, which supports promising talented doctoral students with their research. This enables them to pursue innovative research about the impact of social media on the world community. The award covers university tuition and fees with a $37,000 (Shs 133m) stipend, and up to $5,000 (about Shs 18m) towards conference travel funds.
Namara scooped the award for his compelling proposal, which will research into how people can continue to connect onto the internet while maintaining their privacy.
"I spend a reasonable amount of time on social media, however, I often ponder at the posts I keep reading on Facebook. I usually find three-quarters of the posts quite private and often wonder whether people draw a line when it comes to their privacy," Namara explains.
He notes that the decisions many make, such as sharing family information or precise locations, can come with benefits and risks. Namara's PhD research work focuses on exploring and structuring a user-tailored privacy approach that would enable users to control and maintain their privacy, while enabling online sites such as Facebook to securely cater to their need to communicate.
Namara says he intends to discover how best Facebook can tailor its privacy features to users' various needs and behaviours, while simplifying their decision making process. His research will be used by other Facebook researchers, engineers, fellows and emerging scholars.
"Whereas I believe that networking via social media is an incredible and advantageous lifestyle, I also believe that this gives Facebook a huge responsibility to protect users' privacy," Namara adds. "However, users have the duty to weigh the benefits and consequences of sharing any sort of information."
BACKGROUND
Namara was born and raised in Kampala. He studied at Kampala Parents' School for his primary and at Kawempe Muslim Secondary School for both his ordinary and advanced level secondary schooling. He holds a bachelor of science degree in Computer Science from the University of Maryland (2016) in the US. He credits his family support for his journey.
"In addition to the constant moral support, advice and financial sacrifice from my parents, mentors and friends. I wouldn't be who I'm today if it wasn't for my focus, work ethic, hard work drive, passion for computers and belief in the ability of technology to empower and change livelihoods," he says.
Namara likes to hang out with his friends during his leisure time. However, he is an ardent reader and is currently reading The Wright-Brothers by David McCullough and Born a Crime by Trevor Noah.