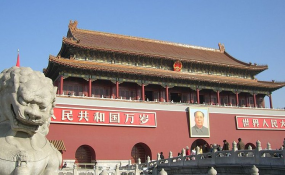 Photo: Wikimedia
analysis
China, traditionally cautious about intervening in other countries, is playing the unprecedented role of peacebuilder in South Sudan. This experience could serve as a trial run for a more proactive global role, but Beijing is still challenged by limitations in its experience, expertise and diplomatic staff.
Executive Summary
China's longstanding principle of non-interference in other states' internal affairs is evolving with its growing global footprint. As Chinese overseas investment and business links grow in scope and depth, Beijing faces increasing threats to its citizens, economic interests and international reputation. That, in turn, has confronted China with the inherent limitations of its traditional hands-off foreign policy posture. How it responds over time will have a profound impact on Beijing's international role. The most prominent test case appears to be Africa and, within the continent, South Sudan, where Chinese measures to protect its citizens and economic interests, coupled with its support for an end to the war and pursuit of humanitarian objectives, seem a calculated trial run for a more proactive global role.
China first experimented with deeper involvement in Sudan in response to powerful international criticism (culminating in calls to boycott the 2008 Beijing Olympics) of its support for Khartoum, which was fighting a brutal counter-insurgency campaign in Darfur. Using its influence with the Sudanese government and in the UN Security Council, China helped ensure deployment of UN peacekeepers to Darfur in 2008. Later, when Libya's civil war erupted in 2012, China's evacuation of its citizens generated national pride and increased both its people's and its investors' expectations about Beijing's global profile. In both instances, China extended the boundaries of its time-honoured diplomacy, suggesting growing willingness to take action when its interests are threatened.
When South Sudan's civil war broke out in late 2013, Chinese advocates of a more flexible interpretation of the non-intervention policy saw an opportunity to try new approaches to protect their nation's interests. Several factors were at play. Huge investments made the state-owned China National Petroleum Corporation (CNPC) both an economic and political actor. At the same time, China's interests were aligned with those of others - mediators and Western powers - seeking to end the conflict. Working together with the Horn of Africa's regional body - the Intergovernmental Authority on Development (IGAD), charged with mediating South Sudan's peace process - and Western actors, Chinese policymakers believed they could intervene constructively while managing reputational risks.
This was a step beyond its traditional approach: Beijing could claim broad adherence to the non-interference principle even as it used its influence to bring warring parties together and bridge differences between Western actors and South Sudanese leaders. It engaged in the peace process held in Ethiopia, hosted discreet talks among warring factions in Sudan, shaped UN Security Council action, sent peacekeepers to the UN peacekeeping mission in South Sudan (UNMISS) and joined the August 2015 peace agreement oversight body.
In short, China might still oppose interference in others' affairs, but its definition has become more elastic. It continues to draw a line at intruding on matters of domestic governance; opposes regime change or unilateral military intervention; and believes that showing respect, rather than exerting pressure or inflicting punishment, is how to elicit cooperation and improvement in governance. Having itself been a victim of sanctions and public opprobrium, it favours more discreet persuasion. But direct involvement can be justified when civil conflicts cross borders, threaten regional security and stability or create large humanitarian crises, and when regional and local authorities and the UN have granted their imprimatur. In such cases, China tends to support political dialogue without imposing outcomes, save when those directly relate to the safety of its citizens or investments.
If China's steps are tentative, there is good reason. It is aware of its newcomer status to international peace and security efforts, particularly via multilateral institutions, and is careful not to overreach. It is actively learning from its own experiences and the successes and missteps of other would-be peacemakers. Its diplomatic corps is not yet sufficiently staffed or trained. But its considerable economic and political influence mean that, when it steps in, it inevitably brings leverage to the table that traditional mediation efforts - whether in South Sudan or elsewhere - sometimes lack.
Despite differences in approach, so far collaborating in South Sudan has benefited China, Western countries, their African partners and the South Sudanese people. They should continue along this path. This is a crucial time for peacemaking in South Sudan and a crucial time for China to test its newfound role. It's important to get both efforts right.
Beijing/Nairobi/Juba/Brussels, 10 July 2017