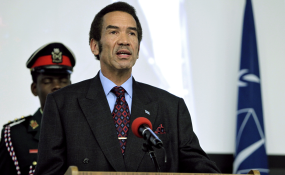 Photo: /Paulo Filgueiras/UN
Botswana Democratic Party (BDP) members have been urged to protectively uphold the ruling party's supreme consideration thus national interest that the founders of the governing political grouping cherished. President Ian Khama made this call on Friday at the start of the 37th national congress of the party in Tonota.
Quoting his father, Sir Seretse Khama, the president said: "As a party that has been in power since independence, we have always been guided in all our policies and actions by one supreme consideration: national interest. In order for us to survive as a party in power, which is known for good government and sound leadership, we must continue to behave responsibly.
We are in power at the pleasure of the people of Botswana and not our own sufferance." Khama revealed that he chose to use his father's quote, as a signpost in delivering his address as the leader of the great and illustrious political party, which since its inception has been a champion for democracy, good governance and a force for the public good. "We must never falter because this (faltering) will simply create an opening for a clueless opposition, better fitting the definition of a protest movement which has no coherent policies that would lead this country astray should it by accident ever be in government," blasted Khama.
Khama added: "Such an accident can only be created by ourselves, as the members of the ruling BDP, because without it, our position remains solid in government." He reminded all individuals involved in any aspect of Bulela Ditswe must therefore demonstrate the highest integrity because without it all their best efforts will count for nothing.
"When primary elections kick in, all candidates must adhere to the regulations of conduct as well as the code of conduct, which emphasize that both successful and unsuccessful candidates and their followers must come together and demonstrate commitment, loyalty and support to party." He said the BDP has maintained a favorable impression in the opinion of the electorate because their finger has always been on the pulse of the public need. Khama said democrats must never be found wanting in articulating party policies and delivering services to the nation.
"To win eleven consecutive elections in an open multi-party contest is no small feat in the history of electoral politics and this confidence we enjoy from voters must not be taken for granted," he said. For his part, vice president Mokgweetsi Masisi echoed Khama's sentiments. Masisi said the legacy left behind by the ruling party's founding fathers should be carried over to the next generations without fail.