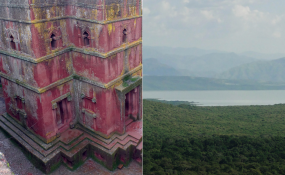 Photo: allafrica.com
By Tewodros Kassa
Tourists who visited Addis Ababa over the last nine months spent 1.9 billion USD, an amount which surpasses the tourism earning of last year's same period, announced city's Culture and Tourism Bureau.
The bureau's study indicated as 782, 000 tourists visited the city during the stated period, and the number and earning would grow when a comprehensive study is conducted for the budget year in due course, Bureau Public and International Relations Director Worku Mengesha told The Ethiopian Herald.
The increment both in the tourists' inflow and spending is attributable to the effective activities exerted in concert with stakeholders, he added.
Another important contributor to the growth is the peaceful and effective international and regional conferences the city hosted so far. "Addis Ababa hosts four international/regional conferences on average from 2009 onwards."
"Tourists' average stay in the city has grown to 12 days with a daily spending of 234 USD in 2015/16 from previous six day and a half with 121 USD, while there is expectation of progress when the 2016/17 study finalized." Similarly, the number of visitors is increasing year after year. "For instance, 782,000, 750,000 and 711,000 tourists visited the city in 2016, 2015 and 2014 attracting revenues of close to 665.5 million USD, 1.6 billion USD and 1.9 billion USD respectively.
He disclosed that his office would further commit itself to boost private sector actors' contributions through developing and establishing tourist destinations in the city and its environs.
Currently, the city has over 110 standardized hotels, while various star hotels are under construction citywide.