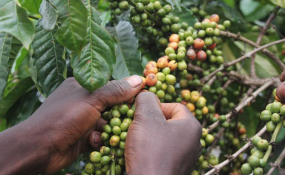 Photo: Daily Monitor
By Abebe Wolde Giorgis
With concerted efforts of the government and other stakeholders, Nyala Insurance Company is providing weather insurance services to small scale farmers and pastorals in various states, said Micro Insurance Business General Manager Solomon Zegeye.
The manager told The Ethiopian Herald that with an intention of delivering social responsibility and promoting saving culture in the rural parts of the country his company provides weather insurance services to farmers who lost their products due to drought.
According to Solomon, the payment would be settled based on the information received from the Ethiopian Meteorology Agency.
He further said that in order to get the insurance services farmers and pastorals should organized themselves in a cooperative association and make agreement with the company. Over the past seven years, 25,000 farmers in Tigray State who are members of the micro-finance institutions received over one million Birr insurance money.
Similarly, from 2012 to 2015 6,655 people in Amhara State received 220, 078 Birr, and from 2015 to 2016 over 2,000 people in Gambella and Tigray states received over two million Birr, he said.
As to Solomon, the insurance money is used for risk management tool and for promoting autonomous adaptation of climate change. Currently, the company provides various types of insurance coverage and among others multiple peril crops, livestock and weather index insurances.
However, he said the insurance mechanism has its own short comings as the result; the company is unable to scale up the ongoing efforts because such endeavour requires huge investment.
Shortage of product designing, inadequate meteorology infrastructure and lack of technical experts can be mention as major hurdles, he said.
An expert in the Ethiopian Meteorological Agency weather insurance department Tsegaye Ketema for his part said that metrological equipment are installed in Tigray, Amhara, Oromia and Southern Nations, Nationalities and peoples states. He said experts collect data from satellite for ten days interval and would be analyzed by agronomist and when drought is confirmed reason for the crop damage is confirmed the insurance money will be paid to farmers through their micro finance institutions based on the agreement.
According to Solomon, to enhance its activities the company with the cooperation of Africa and Oromia insurance companies have planned to provide insurance coverage beginning from next September to 5,000 pastorals in Somali state whose cattle are affected by the drought.