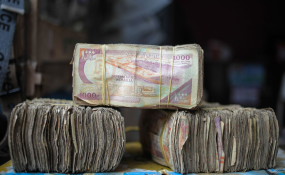 Photo: AU/ONU IST/Stuart Price
Traders and consumers in Galmudug have introduced transaction using the Ethiopian Birr. Residents of Dhusamareb confirmed to Radio Dalsan that following the flooding of fake Somali Shillin in the market traders have opted to instead use the Ethiopian currency.
Most of the areas where the Birr is used as the mode of exchange are under the control of Ethiopian troops. Reports of fake currency circulating in neighbouring Hiraan markets in the government controlled towns raised panic among traders.
The main economic activity of the region livestock was switched to trading by the dollar in the headquarters Beledweyn. Alshabaab which controls mainly rural villages in region followed suit with the banning of the Somali Shilling
Alshabaab administration instructed traders and forex bureaus not to accept fake notes. The fake notes are alleged to have originated from Puntland region.
A Hirshabelle official accused Puntland of printing and sending fake money to the region