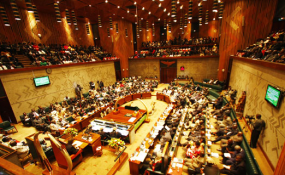 Photo: Zambia Reports
By Mike Makasa
UPND Namwala Member of Parliament Moono Lubezhi has never returned to parliament despite having been reinstated after being wrongfully suspended by Speaker of the National Assembly Patrick Matibini.
The matter came to light when Mandevu Member of Parliament Jean Kapata rose on a point of order and wondered why Lubezhi and Monze Central lawmaker Jack Mwiimbu who is also leader of the opposition in parliament have never been in the house despite having been reinstated, Deputy Speaker Catherine Namugala said that they had yet to locate the Namwala Member of Parliament.
Lubezhi was initially listed on the UPND MPs suspended but on review of evidence it was found that she had permission to be absent as was Mwiimbu.
However the duo has not returned to the house opting to stand in solidarity with their suspended colleagues.
Namugala told the house that the office of the clerk had been unable to deliver the letter of re-instatement to Lubezhi whose phones were off.
An all Patriotic Front parliament on Tuesday voted to extend the proclaimed state of threatened Public Emergency for 90 days.
The motion went through unanimously with a count of 85 to 0.