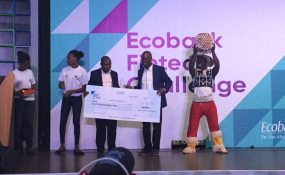 Photo: Ecobank
Lome — And the winner is…the top 3 innovators of the Ecobank Fintech Challenge 2017 are revealed
IroFit, Kudi Inc and One Finance dazzle judging panel
All 20 finalists are officially inducted into Ecobank Innovation Fellowship programme with access to start-up funding worth up to US$500,000
A search to find Africa's top 20 innovators concluded in an exciting final battle as contenders vied to be named the Ecobank Fintech Challenge 2017's Top Innovator.
Ecobank, the leading independent pan-African banking group, launched the competition in January in a bid to find the continent's most promising financial technology entrepreneurs and give them the nurturing and financial support necessary to grow into African success stories.
The contest was open to start-ups and developers across all 54 African countries and the results were truly astounding with more than 850 entries pouring in from all over Africa, as well as Europe, North America and Australia. These were whittled down to 20 finalists who were each invited to showcase exhibitions about their products at a colourful Innovation Fair & Awards 2017, held at the global headquarters of Ecobank in Lomé, Togo on June 21, 2017.
The top 20 innovators were invited to pitch a judging panel, which included Kenn Lisudza, Head of Global Delivery, Cellulant Kenya, Tomisin Fashina, Group Chief Information Officer and MD of Ecobank eProcess International, Dele Nedd, Managing Director/CEO Descasio, Ashley Lewis, Investment Officer, West Africa, Accion Venture Lab and Femi Olaloku, Senior Advisor, Digital Banking, Ecobank Group.
IroFit was named as the Top Innovator, after impressing the esteemed judging panel with ZirooPay mPOS, apioneering product that makes real-time financial payments possible without the need for an internet connection. This differs from regular 'offline' payments where transaction details are stored locally and reconciled when the data connection is restored.
Kudi Inc, whose product Kudi.AI enables payments via chats and uses data analytics to remind customers when their bills are due, was named first runner up. Paylater, which has been developed by One Finance and allows customers to get loans of up to US$1,500 with just a data connection and a smartphone, was second runner-up. All three won cash prizes worth US$10,0000, $7,000 and US$5,000 respectively.
All 20 finalists were inducted into the Ecobank Innovation Fellowship programme. They will benefit from once-in-a-lifetime partnership opportunity with Ecobank Group, which includes:
Major start-up funding worth up to US$500,000 to any of the start-ups who meet Ecobanks investment criteria
Multinational product roll-out: for the most commercially viable start-ups to launch their products in Ecobank's 33 markets across Africa
Service provider partner deals: for start-ups with deep capabilities to become pan-African service partner within Ecobank's country ecosystem
Mentoring and networking support: during the one year fellowship period, fellows will be granted access to networking and mentoring from Ecobank's vast global network of technology leaders, fintech experts, investors and management coaches
Ade Ayeyemi, Ecobank Group CEO said; "As the leading pan-African bank, Ecobank is committed to transforming the banking sector and promoting financial inclusion through innovation. Fintech is the catalyst to achieve these objectives; that is why we are committed to investing in the African fintech industry to drive this agenda. It's a win for the Fintech start-ups, the bank and Africa. Congratulations to our overall winners IroFit, as well as runners-up Kudi Inc and One Finance. However the true prize is for all 20 finalists, as we will be working to ensure their future success via our Ecobank Fintech Fellowship.
Eddy Ogbogu, Ecobank Group Executive for Operations and Technology, added: "Our agenda to transform Ecobank into an innovation bank within the growing global digital economy, will be driven by the fintech start-ups we are investing in. We believe in Africa, we believe in the capability of African innovators and the private sector to drive Africa's transformation. That is why we are committed to invest in Africa's innovators to drive our transformation - a true pan-African success story."
Ecobank Fintech Challenge was designed in partnership with the advisory firm Konfidants and supported by several partners across Africa and the world. More information on the fellows, their innovations and the Innovation Fellowship can be found on the programme website at www.ecobankfintech.com. You can also interact with us on social media via facebook.com/ecobankfintech and twitter.com/ecobank_fintech.
Media Contact for further information and to arrange interviews with the winners is:
Fiifi Baidoo
Email: fiifi@ecobankfintech.com
Tel: +233 200219320
About Ecobank Incorporated in Lomé, Togo, in 1988 Ecobank Transnational Incorporated ('ETI') the parent company of Ecobank is the leading independent pan-African banking group. It currently has a presence in 36 African countries, namely: Angola, Benin, Burkina Faso, Burundi, Cameroon, Cape Verde, Central African Republic, Chad, Congo (Brazzaville), Congo (Democratic Republic), Côte d'Ivoire, Equatorial Guinea, Ethiopia, Gabon, Gambia, Ghana, Guinea, Guinea Bissau, Kenya, Liberia, Malawi, Mali, Mozambique, Niger, Nigeria, Rwanda, Sao Tome and Principe, Senegal, Sierra Leone, South Africa, South Sudan, Tanzania, Togo, Uganda, Zambia and Zimbabwe. The Group employs over 17,500 people in 36 different countries in over 1,200 branches and offices. Ecobank is a full-service bank providing wholesale, retail, investment and transaction banking services and products to governments, financial institutions, multinationals, international organizations, medium, small and micro businesses and individuals. Additional information on Ecobank can be found at ecobank.com.