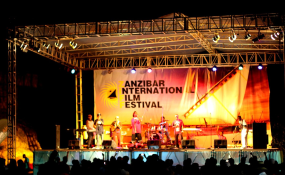 Photo: ZIFF
By Paul Owere
Zanzibar — Twenty years after the Zanzibar International Film Festival (ZIFF) was founded, music and performing arts remain an integral part of the event. This is quite different from what happens at other film festivals across the world such as the Cannes and Toronto festivals.
This is despite some critics saying that music performances take away glamour from the films.
Speaking to The Citizen in Zanzibar, ZIFF chief executive Daniel Nyalusi said there was just no way to separate music from films for they complemented one another.
"I have heard of this before, but it is an argument that does not seem to hold water because in every film that you watch there is a sound track," he said. "Right from day one we chose that we had to have performances after the movie screenings to give the viewers a moment to relax after sitting for a long time." According to him, this is sticking to the theme of the festival, which emphasises finding joy. But ZIFF director Fabrizio Colombo is convinced that this is the way to go. In the future, they will look at how to bring performances that are linked to the films on the show.
"Music is part of films, but in the future we will like to have artistes, who are directly linked and encourage other people to stage independent shows that run alongside the main event," said Mr Colombo.
This year, there are 22 groups set to perform with an average of three artistes per night. "As you must have seen, we decided to bring only local groups because we want them to use this platform to showcase what they have to the rest of the world," said Mr Nyalusi.
Some of the groups that have so far performed include Melisa, the Marhaba Band, Rahatul Zamani and DCMA.
Notable names that are yet to perform include Jhikoman, FidQ and Damien Soul.