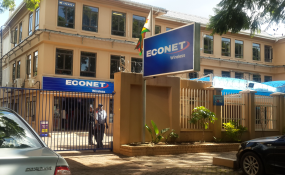 Photo: Jerry Chifamba/allAfrica
interview
Econet took over Muzinda Hub as a way of addressing youth unemployment, teaching significant numbers how to code. Out of this process has also come start-ups, a small number of which it has made equity investments in. Russell Southwood spoke to Tendai Mashingaidze, who's responsible for Econet's education business, about what it's up to.
The latest video clip interviews from Smart Monkey TV can be found at the bottom of this e-letter.
Q: How did the idea for Econet taking on Muzinda Hub come about?
A: Econet Wireless has a foundation in Zimbabwe and it pays for kids to go to school, from primary to University. The challenge for the Foundation was that unemployment was above 90%. If you don't equip students with the skills to do entrepreneurship, that investment (in education) will go down the drain. So Econet saw the hub as a way of giving tech skills to take them towards entrepreneurship.
Q: So what does Muzinda Hub do?
A: It teaches 16-35 year olds to code across all languages. It also has an in-house consultancy platform to market developers to companies. Those being trained can either get freelance work or go into full-time jobs. Econet has 9 million subscribers so it is easy to market to our subscribers in business.
Q: How many students have gone through the programme?
A: 1500 so far. Of those, 1000 have graduated and 500 are still on the programme. Of those who've graduated, 700 are either in employment or are working freelance.
Q: So how does the Hub deal with start-ups?
A: Muzinda Hub is focused on training but it is inevitable for it to deal with start-ups. At the end of training, we want someone who is proficient. They have to be able to create a working prototype. So 10% of trainees go on to launch start-ups. Danny Zembe's Roundshopper was a Demo Africa winner. (It facilitates stock delivery to small-scale informal shops known as Tuckshops.) Roundshopper is very early stage and is supporting 300 Tuckshops across Harare. He crowd pools the buying of stock.
We give start-ups the support they need. Econet has also taken a small amount of equity in some of the start-ups.
Q: Can you give me some examples of start-ups supported?
A: We've worked with start-ups focusing on e-commerce. We want to focus on e-commerce as a group and Roundshopper is an e-commerce start-up and we've got a small amount of equity in it. There's also one dealing with agriculture and three others we're interested in. The value for us as Econet is that we have our own mobile money platform which is extensively used and we have a vested interest in supporting the micro sector.
Q: How does this link to what you're doing in the broader education field?
A: We want to grow our education footprint through things like selling books online for students and give them access to international courses and jobs. It's part of our broader education play in markets where Econet is operating. It's truly pan-African.
The learning platform is for primary school kids and it would grow faster if the economy was in better shape. But now is the time for us to try it in other markets where it should work more easily.
It is an online platform which has taken the national curriculum across all languages used. It provides revision with tutorials. It's extra work outside of school for students and parents. It's focused on Government rather than private schools. There's 350,000 students in one year. The service is zero-rated: there are no data charges. Although we might consider charging if we could get a bigger critical mass
Q: Do you have further expansion plans?
A: We want to use Zimbabwe as a test bed. We want to expand into other markets going into 2017. We want to replicate the Zimbabwe model and grow it. Econet has launched Kwese TV and some of the products we're launching arounf courses and in the VoD context we will use them.
We're looking to set up hubs in other countries we're operating in.