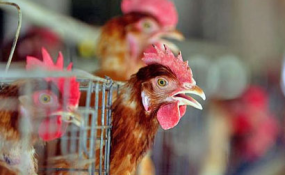 Photo: http://www.dailytrust.com/
Two more farms have been affected by bird flu (H5N8), bringing the total number of affected properties to four.
The new locations are commercial layer chicken farms in Kinross, Mpumalanga, and in Germiston, Gauteng, agriculture department spokesperson Bomikazi Molapo said in a statement on Wednesday.
In June, bird flu was detected on a broiler breeder farm in Villiers, Free State, and on an egg-laying farm in Standerton, Mpumalanga.
The farms were placed under quarantine, meaning chickens and chicken products could not be taken in or out.
Depots used for culling chickens, which had received live chickens from one of the affected farms, had been identified. The intention was to trace as many of these chickens as possible.
Farmers had beefed up their biosecurity measures, SA Poultry Association CEO Kevin Lovell said.
"Three of the affected farms are what we call large farms and have what would be considered good biosecurity measures," he said.
Professor Celia Abolnik, Research Chair of Poultry Health and Production at the University of Pretoria, said the measures the department and poultry producers had implemented were the best possible under the circumstances.
They were intended to prevent the virus from spreading through manure and contaminated clothing, shoes, vehicles, equipment, live birds and eggs.
"We're dealing with an invisible enemy that is highly contagious. No country can ever be fully prepared for this situation," she said.
The virus is found in high quantities in the oral and faecal secretions of birds and on feather dust.
"Specialised poultry veterinarians are reporting red hocks, swelling around the eyes and dark wattles and combs. Birds become lethargic and die suddenly. It's quick and lethal," she explained.
Source: News24