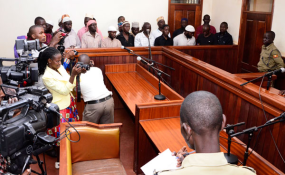 Photo: Alex Esagala/Daily Monitor
By GODFREY SSALI
Kampala — Jailed Ruhinda County Member of Parliament Rtd Captain Donozio Kahonda is to stay in prison for two more weeks until July 24, 2017 when Jinja High Court Judge Eva Luswata will preside over his bail application.
This because on Thursday, there was no prosecutor in court to challenge Kahonda's release on bail as all state attorneys country wide are on strike over low pay.
Last month, MP Kahonda was sentenced to nine months imprisonment at Kirinya government prison after the Jinja court found him guilty of fraudulently obtaining recruitment at the Military academy in Jinja.
Chief magistrate Francis Kaggwa convicted Kahonda on charges of impersonation, forgery and uttering false documents.
Evidence in court showed that in November 2011, Capt Kahonda with intent to defraud or deceive uttered false academic documents (O'level certificate) in the names of Dickson Mutabazi for purposes of being admitted in the military academy.
However Capt. Kahonda has since appealed against his conviction and sentence which he describes as being politically generated having defeated Justice and Constitutional affairs Minister (Rtd) Maj.Gen Kahinda Otafiire to the Ruhinda County MP post.
Kahonda stands to lose his seat in parliament if the High Court does not overturn his conviction as the law states that once a sitting MP is convicted of a criminal offense and sentenced to a six months imprisonment term, his seat automatically falls vacant.