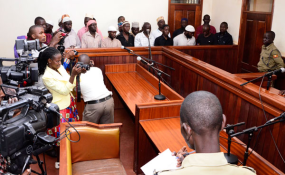 Photo: Alex Esagala/Daily Monitor
Supporters of jailed Ruhinda County Member of Parliament Rtd Captain Donozio Kahonda have camped at State House in Entebbe demanding his freedom.
The group which attempted entry into State House but was denied by Protocol and Special Force Command (SFC) officers have camped at the gate and vowed not to leave until President Yoweri Museveni explains why Justice minister Kahinda Otafiire is allegedly using his office to harass their MP.
This comes a day after Mr Kahonda's bail application hearing at High Court in Jinja flopped.
The Jinja Resident High Court Judge Ms Eva Luswata refused to preside over the hearing of the bail application of the legislator due to the absence of a state prosecutor. The absence of the prosecutor was caused by a national sit down strike of state prosecutors who are demanding salary increment.
Mr Kahonda was on June 8, 2017 sentenced to 9 months imprisonment at Kirinya Prison by Jinja Chief Magistrate John Francis Kaggwa.
However, he appealed the sentence and consequently filed to be released on bail.
When he was produced in court on Thursday, his lawyers pleaded with the judge to hear their client's bail application to no avail.