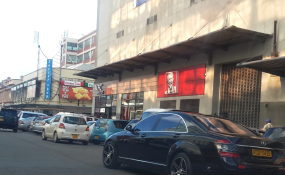 Photo: Jerry Chifamba/AllAfrica
Zimbabwe says a ban on polystyrene food packaging has come into force with immediate effect in a bid to curb environmental and health hazards associated with the material.
But many are wondering if local producers and users of kaylite (as it's known locally) can they find alternatives quickly enough.
In a public notice published on its Facebook page, Zimbabwe's state Environmental Management Agency (EMA) said the ban was "with immediate effect".
"The ban has been effected after wide consultation in order to protect the citizens of Zimbabwe from the environmental and health impacts caused by expanded polystyrene," it said.
It cited a government regulation known as SI84, first published in 2012. The ban was supposed to come into effect in 2016, but never did.
This latest ban, if enforced, will likely upset Zimbabwe's food industry. Fast food outlets use polystyrene to package their takeaways, and supermarkets use polystyrene punnets to package fresh meat, fruit and vegetables.
On social media on Thursday the ban was a talking point. Some lauded it, while others said enforcement would prove difficult as there are few alternatives offered in the country at the moment.
'Enough notice'
"I have so many questions. Have the manufacturers been given a chance to develop alternatives so they don't go out of business overnight?" asked @RickyMarima on Twitter.
Media watchdog @ZimMediaReview replied: "EMA says the ban has been in place for a while and only being implemented now, and that businesses were given enough notice."
Said Travis Calder on Facebook: "How about the polystyrene cornice and tiles and other building materials?? How about the protective packaging on ALL appliances coming into Zimbabwe... Clarification anyone... ? Or just another clever blanket ban that will be repealed in a month's time... ???"
'Out of business'
A company official from local fast food outlet Chicken Slice said the polystyrene ban would put them out of business.
"Government's announcement that it has immediately effected SI84 becomes very difficult for us to operate since we have been using them (polystyrene containers) for years," Tawanda Mutyebere told the state-run Herald.
"This simply means that we must stop trading, kicking us out of business and Government is supposed to give us some time and should have consulted with stakeholders."
News24