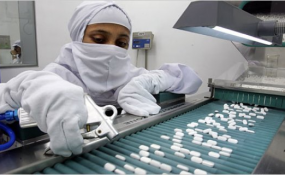 Photo: Daily News
By Tewodros Kassa
The pharmaceutical industrial park under construction at Kilento site in Addis Ababa is deemed to add value to the effort being exerted in transform the health sector.
The specialized industrial park, expected to be completed in eight months of time, is the outcome of the nation's pharmaceutical manufacturing development strategy.
China Tiesiju Civil Engineering Group jointly with local contractors is undertaking the construction.
Mentioning the encouraging construction pace, Project Contractor Representative Getahun Agegnehu told The Ethiopian Herald that the park would be a showcase of modern infrastructural facilities including waste treatment plant. "The park will be well serviced pharmaceutical investment hub."
Up on its completion, the park would cut the sharply growing national medicine import expenditure, Pharmaceutical Fund and Supply Agency Public Relations Head Adinna Berie expressed her conviction.
"The park will prove the market potential for investors that could join it and attract foreign currency to the country," she added.
Following its establishment four years ago, the Agency has been distributing essential medicine and medical equipment worth 600 million Birr annually, she said, adding the expansion of health centers spiked the demand to 22 billion Birr. "Only in the last nine months of the just concluded fiscal year, the Agency purchased and distributed drugs and medical equipments worth 10 billion Birr."
She also unveiled that the park would become so decisive in availing the medicines at local market. "It also proves the market potential for investors that could join the park when it comes to completion."
The Agency opened 17 branches nationwide to ensure the proportionate supply of medicines and medical equipment to the public. "The main objective of the agency's establishment is to harmonize pharmaceuticals demand and supply in the country."
Challenges including financial scarcity, weak information exchanges among hospitals and health institutions have been noticed in the sector, she stated.
A medicine supply command post comprising the Ministry of Health and the Agency as well as hospitals, state health bureaus and other pertinent stakeholders was established to counter the challenges, she added.
Currently, the Agency is striving to modernize its management system and standardize bidding process to secure healthy pharmaceutical supply chain.