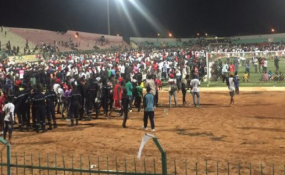 Photo: Africa Top Sports
Eight people have been killed in a Dakar soccer stadium after a wall collapsed onto clashing fans, triggering a stampede. Football brawls and deadly accidents are common in Africa where safety standards are quite low.
Matar Ba, Senegal's minister for sports, confirmed the deaths in the capital Dakar during a football match between two local teams. Ba said a young girl was among the dead, while some 60 injured people had been taken to hospitals.
The minister vowed "strong measures so that such an event will never be repeated in Senegal."
A fight broke out Saturday between fans of rival clubs US Ouakam and Stade de Mbour during the second half of extra time, with Stade leading the game 2-1.
Police used tear gas to keep rioting supporters from the two sides apart. As spectators began to vacate seats in a rush, part of the stands collapsed, triggering a panicked stampede.
"All of a sudden the wall fell... we knew exactly that some of our own had lost their lives because the wall fell directly onto people," said Cheikh Maba Diop, an eye witness.
Inadequate security measures
Mara Die Diouf, a football fan present at the stadium, told the AFP news agency that policing at the stadium was inadequate.
"What I find terrible is that we have this kind of final in this kind of stadium where there isn't enough security," Diouf said.
A presidential spokesman said campaigning for Senegal's legislative elections on July 30 had been suspended to pay respect to the stadium victims.
Clashes during football matches are common in Africa where safety standards at large gatherings are quite poor.
In February, at least 17 people died and scores were injured in a stampede during a football match in Angola.
shs/ng (AFP, Reuters, dpa)