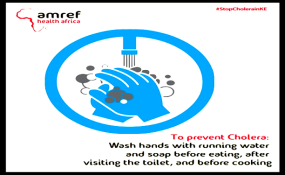 Photo: AMREF
By Bernadine Mutanu, Collins Omulo, Verah Okeyo
The national government on Saturday put the Nairobi county government on the spot over the rising cases of cholera as the Kenyatta National Hospital established an emergency ward in a bid to contain the outbreak.
Dr Jackson Kioko, the director of medical services at the Ministry of Health, warned the health department at the county government to move fast and contain the outbreak or face unspecified consequences.
Dr Kioko said that he was disappointed with the slow response from the county.
'PROPER COORDINATION'
"It is a shame that a city should suffer from a disease so outdated such as cholera. All that is needed here is proper coordination of all the shareholders and talking to the community," he added.
The ultimatum came as the Treasury Cabinet Secretary Henry Rotich was on Friday night discharged from the Nairobi Hospital where he had been admitted after suffering a bout of cholera.
Mr Rotich was among top government officials including his Trade counterpart Adan Mohammed and Trade Principal Secretary Chris Kiptoo who were rushed to the hospital after exhibiting cholera like symptoms on Thursday.
KICC EVENT
This is after they ate food served during a Trade event at the Kenyatta International Convention Centre during the week.
Also admitted with Cholera-related symptoms were some staff from the ministry and other guests who attended the event.
The two CSs and the PS were all spotted at the burial of former Interior Cabinet Secretary Joseph Nkaissery at his Bisil home in Kajiado County.
OFFICIAL MESSAGE
Speaking to the Nation, Mr Kiptoo said the ministry had officially written to the management of KICC about the incident.
"We have formally written to the management of KICC seeking clarification of what went wrong because they were out hosts and we had a successful function apart from this incident," said Mr Kiptoo.
He said that the ministry was also trying to establish how many of its staff and guests were affected.
'FULL EXTENT'
"We are still engaging amongst ourselves to establish the full extent of what happened and to know how many people were affected and if they are still in hospital or have been discharged," he added.
Mr Robert Gichira, a cameraman at NTV, said that he had attended the two-day event and says he ate "ndengu (green grams), chapati, spinach, and chicken."
"I started feeling unwell and went to a hospital in Buru Buru and they said it was food poisoning. But the severe diarrhoea and vomiting did not subside and I came to Nairobi Hospital today at midday and I was admitted."
WAS DEHYDRATED
Mr Gichira was severely dehydrated on admission at the facility which is currently treating more than 10 other patients with cholera-like symptoms.
"The doctors asked if I had also eaten at the KICC event because they had seen 25 other patients who ate there," he spoke from his hospital bed where he is receiving treatment.
A reliable source told the Nation that a special ward had been set up at KNH on Friday night to exclusively handle the outbreak.
UNDERGOING DIALYSIS
The source, who sought anonymity for fear of reprisal from the KNH management, said that two suspected victims of the disease were currently admitted at the hospital's renal department undergoing dialysis due to severe dehydration.
"We have been treating Cholera even before the Weston outbreak, and now that they are increasing we had to take them to a central point," the source said, referring to the recent outbreak of the disease at the Weston hotel on Lang'ata road.
Addressing a press conference on Saturday, Nairobi County Executive in charge of Health Bernard Muia confirmed that 33 people had been admitted to various hospitals in Nairobi following the trade event.
DIFFERENT FACILITIES
Dr Muia said six of the victims had been taken to the Nairobi Hospital, another six to the Mater Hospital, three to Guru Nanak, one to Mariakani and another one to Melchizedek.
Separately, Nairobi Governor Evans Kidero slapped a ban on all unlicensed water tankers distributing the commodity in the city and called on city residents to be vigilant on what they consume.
"We have banned the transport of water by tankers that are not registered by the county government and Nairobi Water and we are asking people to be careful and look after their own hygiene," said Dr Kidero while speaking at Kilimani Primary School where he was meeting more than 2,000 women from Dagoretti North constituency in Nairobi.
336 CASES
Dr Kidero said the county had so far identified 336 cases of cholera where one person has so far died, adding that the cases were not only confined to the informal settlements but have also affected residents from high income areas.
"We first noticed this about five weeks ago when people who attended a wedding in Karen suffered from cholera. Since then we have identified 336 cases and the latest one was concerning those who were at a conference at KICC.
"It has not just been people in the informal settlements but we notice that it has affected even people from high end areas," he said.
COLLABORATIVE WORK
The governor also said that the county government was working in collaboration with the national government's disease surveillance units to combat the disease, adding that all county hospitals had been equipped with drugs to contain the outbreak.
Unconfirmed reports indicated that an employee of the Kenya National Chamber of Commerce and Industry who had attended the KICC event had been found dead on Friday afternoon in his house on Mbagathi Road.
According to neighbours, the man had complained of stomach pains after returning home from the KICC event on Thursday evening before he was discovered dead the next day.
ONE MONTH
The latest outbreak comes barely a month after more than 40 delegates attending a science conference at the Weston hotel were taken ill and rushed to various hospitals suffering from the disease.
In the last few weeks, KNH alone has confirmed 18 cases of cholera, according to statistics gathered from various hospitals in Nairobi.
Dr Muia however maintained that only 13 cases had been confirmed.
Prof Revathi Gunturu, an infectious disease expert from the Aga Khan University Hospital, said that she has isolated "very many cases of Cholera this month," including two on Thursday.
The director of the Centre for Microbiology in Kenya Medical Research Institute, Prof Sam Kariuki, said that his lab had traced some of the most virulent strains of typhoid and Cholera to slums of Mukuru kwa Njenga.