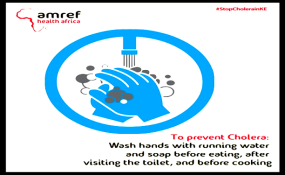 Photo: AMREF
By Eunice Kilonzo
The national government is pulling all stops to arrest the spread of cholera that has so far claimed three lives in Nairobi City County.
Director of Medical Services Jackson Kioko on Monday announced a raft of drastic measures that included cancelling all medical certificates for food handlers.
Mr Kioko also directed counties to ban food hawking and inspect all hotels in 21 days as he appointed a multi-sectoral taskforce to battle the outbreak.
Hotels have been banned from outsourcing food and those wishing to do so, should notify the county health department 14 days in advance to allow inspection.
He said his department will work with water companies to test water sold by vendors and also repair broken sewers.
Mr Kioko also said they have launched campaigns to senstitise city residents on hygiene and sanitation.
He said three people have died and 336 cholera-related cases reported since May this year.