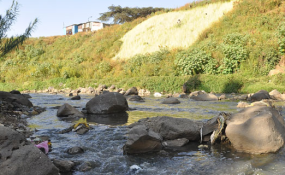 Photo: Addis Fortune
By Tewodros Kassa
Close to 900 youths organized in Small and Medium Scale Enterprises are cleansing the rivers and riversides of Addis Ababa with a view to creating additional touristic value to the city.
Addis Ababa River and Riversides Development Project Office told The Ethiopian Herald that the youths' effort is part of the five year project to development the area.
The development received one billion Birr from Addis Ababa City Government as indicated by Project Office Director Walelign Desalegn.
The primary role of the rivers' development is to promote the health of residents and visitors besides boosting city's tourism sector. Addis Ababa has more than 7 large rivers and up to 76 small to medium rivers that flow year long, he added.
"The rehabilitation work will be helpful to sustain green economy, prevent water contamination, control flash flood and landslide, expand recreational options as well as motivate the publics' towards the preservation of the environment."
The project would be phased out by 2022 after the development of Kebena, Kechenie and Kurtimie rivers is completed, he reaffirmed. He also said that his office is working actively focusing on green economic development through recognizing and supporting pro-environmental friendly industrialists.