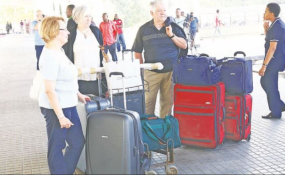 Photo: Mohamed Mambo/Daily News
opinion
MILESTONES are being made all around us, but do we ever stop to notice them? Let appreciate their significance, we rarely pay attention to momentous milestones in our lives.
Lat Saturday, the chairman of the Tanzania Tourist Board( TTB), Judge Thomas Mihayo, played host to the tourist ROVOS Rail, which arrived in Dar es Salaam through the Tanzania and Zambia Railway Authority (Tazara). Though little publicised, this event carried with it a significant milestone in this country's tourism industry.
For one, the railway line is one of the best, cutting through a number of tourist attractions; for another, the arrival of the South Africans should have opened new frontiers in the way we treat the industry itself.
For far too long, we've believed - even sought to demonstrate - that all tourists coming here love flying. We should all join hands and congratulate TTB for this new innovation.
We could all see how refreshed the travellers were on arrival; and there couldn't have been a better way of selling Tanzania abroad than actually affording tourists the opportunity to traverse it - viewing wildlife and other attraction from the comfort of one's train window.
And very leisurely, too! The train's doctor in attendance, Ms Hester Wannenburg, described the trip as one of the best excursions ever undertaken. The passengers did not just enjoy Tanzania's scenic beauty, but also had opportunity to sample others in BOTSWANA, Zimbabwe, Zambia and finally Tanzania.
With 60 tourists headed for destinations of their choice within Tanzania, they all had ample time to connect, before flying back home. Indeed, Tazara is now redefining tourism.
And, with a night's stopover at Ifakara, the tourists couldn't have bargained for a better rural setting, friendly people and weather to go with that Tanzanian hospitality, especially now that Tanzania is fast becoming the ultimate destination for increasing numbers of tourists.
In many ways, Tanzanians are known for their welcoming hearts and willingness to share. We should therefore receive not just the ROVOS Railway visitors with trademark Tanzanian hospitality but all other tourists.
TTB officials now believe that Tazara is now poised as a reliable means of transport for our visitors. This is more the reason we should all work to improve its performance. Its' a milestone we can ill-afford to slip away.