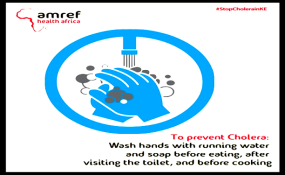 Photo: AMREF
By Anthony Omuya
Nairobi independent gubernatorial candidate Peter Kenneth has said the cholera outbreak in Nairobi is regrettable and embarrassing.
Mr Kenneth said Nairobi is one of the biggest cities in Africa and attracts many visitors and it is unfortunate that it is battling cholera.
Speaking in Ziwani estate in Nairobi on Monday, the politician blamed the county government, saying it reflects failure to provide proper sanitation services as the disease is caused by poor hygiene.
GARBAGE
"In Nairobi, (the) Kidero administration has neglected garbage collection and poor hygienic conditions. Instead of the city being run as a city in the Sun, it is now the city of garbage. The drainage is poor and sewage is just flowing freely," he said.
Mr Kenneth stated that lack of water and poor garbage disposal as well as infiltration of water cartels in the city are to blame for the outbreak.
The gubernatorial aspirant promised to deliver water in all city taps within one year and clear the city of garbage in three months if elected.
DEATHS
The government has so far confirmed 336 cases with cholera-related symptoms while three deaths have been reported in Nairobi County since May.
Director of Medical Services Jackson Kioko on Monday announced a raft of drastic measures that included cancelling medical certificates for all food handlers.
Mr Kioko also directed counties to ban food hawking and inspect all hotels in 21 days as he appointed a multi-sectoral task force to battle the outbreak.