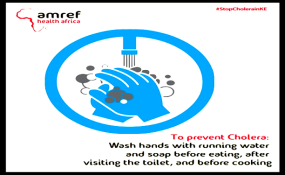 Photo: AMREF
By Stellar Murumba
The Health ministry has formed a national taskforce to handle cholera cases in a raft of measures to contain the infectious disease that has attacked more than 300 people since May.
Cases of cholera have lately been reported even in high-end facilities such as Weston Hotel.
Last week, the Treasury Secretary, Henry Rotich was hospitalised after attending a public function at the Kenyatta International Convention Centre (KICC).
"The constitution of the taskforce is multi-sectoral and its main task is to respond to the ongoing cholera transmission, so as to kick the disease out of the country and put situation under control," Director of Medical Services Jackson Kioko said in statement.
The government has so far confirmed 336 cases with cholera-related symptoms while three deaths have been reported in Nairobi County since May.
Dr Kioko said the latest incident at the KICC was being investigated adding that samples of food, water and sewer had been collected from outsourced caterers to examine at the National Public Health Laboratory.
Members of the taskforce include experts from Water and Irrigation ministry, UNHCR, UNICEF, World Health Organisation, Red Cross and Amref Africa.
As part of the operation, the ministry has directed the County Health Departments across the Country to inspect all hotels, food eating places and carry out urgent medical examination to all food handlers within 21 days.
Ban list
Hawking of food within the town and estates has also been banned.
Out-sourcing of food by hotels and other meeting venues from unlicensed or un-inspected premises or individual suppliers who have not met the health requirements has also been included on the ban list.
"We wish to urge the public that any person presenting with vomiting and diarrhoea should consult the nearest health facility as soon as possible for assistance," said Dr Kioko.