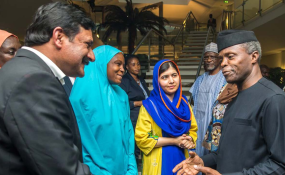 Photo: The Guardian
By Isiaka Wakili
A Pakistani activist for female education and youngest ever Nobel Prize laureate, Malala Yousafzai has urged the Federal Government to declare state emergency in the education sector.
Addressing State House reporters yesterday after a closed door meeting with Acting President Yemi Osinbajo at the Presidential Villa in Abuja, Malala said the first issue she highlighted was "to ask the government to declare a state of emergency for education because the education of the Nigerian girls and boys is really important."
The 20-year-old activist said she also asked the Federal Government to make the spending on education public and that the Child Rights Act be implemented in all states.
Malala said Osinbajo expressed delight over her suggestion on the state of emergency on education.
She added: "In the morning, I met Chibok girls and I was very happy at what the minister is doing to support the Chibok girls. I'm really excited to see them going back to their homes and to their families and continuing their education. But I hope the other girls who are still under abduction of Boko Haram are released."