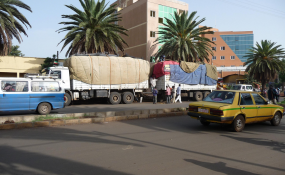 Photo: ZeGhion/Wikimedia
The amount of debt disbursed by the external development partners to Ethiopia has reached the lowest level since 2011/12, reaching 1.7 billion dollars, according to the latest Public Sector Debt Statistical Bulletin published by the Ministry of Finance & Economic Cooperation (MoFEC).
This is announced in a month when the national debt, the accumulated level of debt owed by Ethiopia, has reached over 23 billion dollars as of March 2017 from 21.5 billion dollars in December 2016.
The new report is released a year after the International Monetary Fund (IMF) put the country's risk of external debt stresses to moderate from being low.
As the national debt of the country has been on a steady increase for a decade, a month ago, Abraham Tekeste (PhD), minister of Finance & Economic Cooperation, decided to reduce commercial loans, a funding arrangement used to fund significant capital investments based on debt financing arrangements.
The amount of public debt was estimated to account for 54pc of gross domestic product (GDP) until the end of the past year. Out of the total debt, about 30pc of GDP corresponds to external debt.