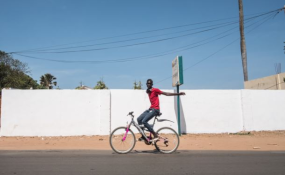 Photo: Ricci Shyrock
analysis
By Serufusa Sekidde
Malaria is a monster. I was 12 years old the first time I contracted cerebral malaria. After several days of staying in bed unwell without receiving proper treatment from my boarding school dispensary, one night I woke up delirious, screaming and shouting. I had to be restrained by my brother and classmates. By the time I was rushed to a local hospital in Eastern Kenya, I was in a coma. While I survived, hundreds of thousands of people die from malaria each year.
Gambia also sees malaria as a monster that must be eliminated and it aims to be the first country in sub-Saharan Africa to do so by soliciting more donor funding. While the usefulness of more funding is unquestionable, funding alone is not the panacea, and Gambia - and other African countries aiming to eliminate malaria - needs to have at least three other arrows in its quiver.
First of all, Gambia and any other African countries wanting to eliminate malaria need to increase funding for the health system overall, with more funding coming from within the country. There is a strong correlation between increased governmental spending on national healthcare systems - not just on vertical malaria programs - and decreasing rates of malaria infections.
Currently, Gambia's health care system costs around $60 million dollars to run annually and well over 60% of that money comes from international donors, with Gambians themselves footing almost 20% of health care expenditure out of their own pockets. Not only does this imbalance need to be corrected but also more funds need to come from within the country. If Gambia is to join the ranks of 33 countries and territories that have eliminated malaria, it must follow their examples and build robust malaria eradication campaigns that lie on the foundations of a resilient, equitable and functional healthcare system.
Gambia's government is asking for $25 million in extra funding - equivalent to almost half of the country's current budget for health - from international donors in order to reach its goal of eliminating malaria. However, if the government were to match that funding dollar for dollar from other sources within the country and invest that matched funding into other strategic pillars of the health system, that would go a long way in creating impactful and sustainable gains for its health system overall.
Secondly, African countries like Gambia need to increase strategic health cooperation and global health diplomacy with other countries. Mosquitoes and diseases know no borders. Eliminating malaria within the country will be a pyrrhic task if imported malaria cases are not addressed and there is no engagement in health cooperation with their neighbours. Thus for Gambia, more global health diplomacy is needed with countries in the West Africa region, particularly its sole neighbour Senegal which uses awareness-raising music, film and other innovations to tackle malaria.
Further, according to the 2016 World Malaria Day report by the World Health Organization, 21 countries are on course to eliminate malaria by 2020, including five African countries. They should consider holding a forum to discuss swift action and mutual accountability and plan a win-win strategic trans-continental partnership to combat malaria. When Comoros worked with the Chinese, starting in 2007, to conduct mass drug administration for malaria on one of its islands, it was hailed as a novel but controversial approach. Malaria cases fell by 95%.
Lastly, African countries need to engage more with the private sector in ways that go beyond just seeing them as cash cows. In Ghana, a highly-touted partnership with a global mining conglomerate - AngloGold Ashanti - led to a 74% reduction in malaria in a region in two years. The company was losing workers and productivity overall because of malaria cases, so in close partnership with the Ghana Ministry of Health, they started a highly-effectively malaria control program. In my visits as a healthcare strategy consultant to the Gambia and other African countries, I have found many willing private sector companies - both local and foreign - willing to engage government in mutually beneficial partnerships.
The first steps governments should take is improving their business environments by initially focussing on making progress in key indicators such in the World Bank's Ease of Doing Business index, such as facilitating trade across borders and improving the tax regime. It is hard for the private sector to consider engaging with government, let alone flourish, when a country like Gambia is ranked 145th in the world in 2017 in the Ease of Doing Business index. Another step would be to engage the diaspora – whose remittances equate to 20% of Gambia's GDP - as investors in strategic initiatives like diaspora bonds to combat malaria as well as leveraging their business experience and networks.
To be sure, Gambia and many other African countries are already implementing many of the recommended measures for eliminating malaria, such increasing supply and use of bed nets; proper testing of suspected malaria cases and treatment; the use of technology to strengthen implementation of existing malaria control strategies and others. However, to reach the goal of elimination, more needs to be done in a smart, strategic way.
While I survived malaria, many do not and even more see it as an inevitable part of life. Eliminating malaria is possible, however, it needs nothing less than bold and strategic leadership peppered with guile and guts. Let's ensure that one day malaria is an eradicated infectious disease, starting one African country at a time.
Serufusa Sekidde is a Ugandan medical doctor currently working in London for a pharmaceutical company. He is a 2015 Aspen New Voices Fellow and writes in his personal capacity.