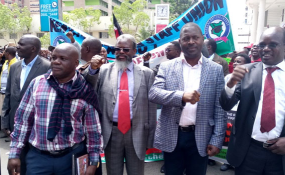 Photo: Capital FM
By Davis Ayega
Nairobi — The Universities Academic Staff Union has called off the public universities lecturers strike.
The announcement was made by UASU officials Tuesday afternoon after an agreement was reached with the government on their negotiated Collective Bargaining Agreement (CBA).
Demands over the implementation of the Sh10 billion CBA paid off last week when the Ministry of Education promised to disburse the Sh5.2 billion balance.
University Education Principal Secretary, Collette Suda in a letter dated July 13 and addressed to Paul Kanyari, Chairperson, Inter-Public Universities Council Consultative Forum said: "The National Treasury has granted authority to the ministry to incur the expenditure of Sh5.2 billion."
The government had already released Sh4.775 billion to the university lecturers and workers but they had rejected it demanding the implementation of the full amount.