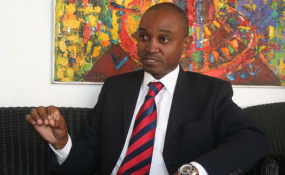 Photo: Jeff Angote/The Nation
By Elizabeth Merab
Hoteliers have said they will continue serving food until the Health ministry issues a clear directive on how re-examination of food handlers, which was announced on Monday in the wake of a cholera outbreak in Nairobi, will be effected.
Mr Mike Macharia, the chief executive officer of the Kenya Association of Hotel Keepers and Caterers, on Tuesday said the ministry's directive sounded like a "knee-jerk reaction" to the growing cholera crisis.
He said hotels, some of which are currently receiving tourists, will continue with their business as usual since they were yet to receive notification from the Nairobi County government on the new public health and sanitation directive.
'JUST REACTING'
"The ban is ridiculous," said Mr Macharia. "There is no solid leadership at the ministry, so it is just reacting to reports from the media. Let them first inspect the source of the water in the city before pointing fingers at food handlers."
On Monday, the Health ministry, in a bid to contain the spread of cholera that has so far claimed three lives in Nairobi, announced a raft of drastic measures that included cancelling all medical certificates for food handlers.
Director of Medical Services Jackson Kioko also directed counties to ban food hawking and inspect all hotels in 21 days as he appointed a multi-sectoral task force to battle the outbreak.
MAIN TASK
The main task of the team, which consists of officials from the Water ministry, UNHCR, Unicef, World Health Organization, Red Cross and Amref, is to respond to cholera cases.
Hotels have been banned from outsourcing food and those wishing to do so should notify the county health department 14 days in advance to allow for inspection.
He said his department will work with water companies to test the commodity sold by vendors and also repair broken sewers.
SENSITISATION CAMPAIGNS
Dr Kioko also said they had launched campaigns to sensitise city residents on hygiene and sanitation.
But Mr Macharia faulted the ministry's move, claiming that besides overlooking the critical role of hygiene experts, it also overlooked the role of food handlers. "We know our hygiene systems because we have daily hygiene audits as well as monthly inspections from the county public health officials," he said, adding that the ministry must first zero in on the affected areas to get to the root of the problem.
MANY AREAS
Reports from healthcare providers indicate that the disease is not confined to one area.
As of Tuesday, nearly 50 people had been admitted to Kenyatta National Hospital, from diverse parts of Nairobi County.
"We have patients from Kileleshwa, Githurai, Kawangware, Pipeline, Mukuru kwa Njenga and Embakasi South," said a nurse at the hospital.