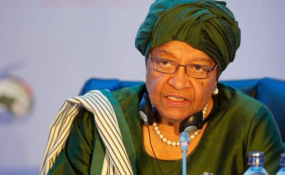 Photo: Liberian Government
By Calvin Brooks
President Ellen Johnson Sirleaf has alarmed that 'Liberians don't pay taxes.' She noted that 142 percent of the national budget comes from external resources, which indicates that domestic taxes are not generated well.
President Sirleaf made the statement Tuesday at a National Revenue Symposium organized by the Liberia Revenue Authority (LRA).
The symposium held at the Monrovia City Hall was graced by government officials, representatives of the private sector and members of the diplomatic corps.
She noted that if Liberia's development drive is to be realized, domestic revenue generation must be enforced according to the law.
President Sirleaf warned that the external environment is changing and that Liberia will not be able to get the kind of support it needs to fund development projects across the country in the future.
She therefore emphasized that domestic revenue mobilization is vital to fund development initiatives rather than dependence on external resources at all times.