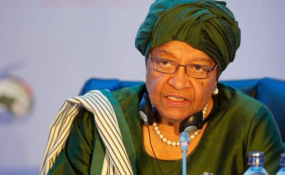 Photo: Liberian Government
The Liberia leader Ellen Johnson Sirleaf has reaffirmed government's commitment to upholding and promoting a vibrant and free press in Liberia.
According to an Executive Mansion release, President Sirleaf was speaking on Friday, July 14, during a One-Day Retreat and Interactive Discussion with Media Executives in Buchanan City, Grand Bassa County.
She said the government remains unrelenting in addressing anti-free speech and related instruments that are still part of the statute.
The Liberian leader made particular reference to the Criminal Libel Law. She noted with grave concern a chain of unbalanced, erroneous and fictitious publications that injure the reputation of people and called for professionalism on the part of the media.
At the one-day retreat, media executives adopted a Peace Compact aimed at ensuring an objective and nationalistic spirit of reportage before, during and after the elections - while heralding non-violence throughout the process.
Media Executives resolved to adhere to their Journalistic Creed during the October Presidential and Representatives elections; and agreed to sustain the peace that is currently being enjoyed.
The Peace Compact seeks to ensure best practice in journalism are upheld; and for ethical standards to inform the journalistic profession.
Speaking at the one-day retreat, the President of the Press Union of Liberia (PUL), Mr. Charles Coffey, thanked President Sirleaf for organizing the Retreat which, he described as rewarding.
He noted that President Sirleaf has exhibited good leadership skills that need to be emulated by all.
Mr. Coffey noted that the PUL has constituted a National Media Council to handle all disputes between journalists and members of the public and pledged the PUL's determination to ensure that all journalists uphold ethical standards in the performance of their duties.
In brief remarks, Information Minister, Lenn Eugene Nagbe, commended President Sirleaf for conceiving the idea of the one-day retreat for media executives intended to work towards promoting healthy environment between government and the media. He extolled media Executives for responding to the invitation positively.
The retreat was attended by several media executives from both the print and electronic media.