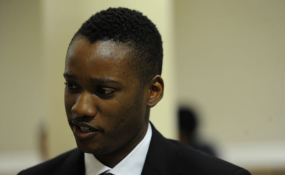 Photo: Werner Beukes/Sapa
press release
By Glynnis Breytenbach MP
The DA notes with concern the National Prosecuting Authority's (NPA) decision not to charge Duduzane Zuma for a car accident in which a woman was killed, despite an earlier ruling by a magistrate that Zuma was responsible for her death.
The DA will now request the inquest documents from the NPA so that we can interrogate the reasons for not going forward with the charges, with the view to taking further steps, should they be necessary.
Of particular concern is the fact that the first person Zuma contacted after the fatal crash was Tony Gupta and not the police. This is not surprising given their close and controversial relationship but may be a part of the reason that the NPA have chosen not to charge Zuma.
The public have a right to know why the NPA came to this decision as it is their job to prosecute people if there is sufficient evidence, regardless of who they are.
Duduzane's is just the latest in a string of high-profile cases which the NPA have chosen not to take forward and it increasingly seems that the NPA is unwilling to do their job.
DA will therefore interrogate the inquest documents as soon as they are in our possession and decide how to proceed.
Glynnis Breytenbach MP
Shadow Minister of Justice and Constitutional Development