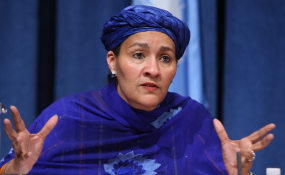 Photo: Premium Times
By Jonathan Nda-Isaiah
Abuja — The United Nations (UN) has called on the federal government to double it's investment on the development of women on promotion of peace in the country.
Deputy secretary general of the UN, Amina Mohammed made the call yesterday when she met with Acting President Yemi Osinbajo at the presidential villa, Abuja.
She said, the UN team led by herself was at the villa to discuss the implementation of the agenda 2030 but also 2063 and see how Nigeria could be supported especially in regards to development of women.
The UN deputy scribe who served as minister of Environment before her current position to the world organization explained that in achieving the desire of promoting women development, the Federal Government needs to begin to put women at the center of it affairs.
She said "I am honoured to be leading a delegation with the focus on peace and development of women.
"With me we the chief executive of the UN women, we also have our special representative on women and conflict, we also have with us, our partner the AU, the special adviser also on peace, women and development.
"All our regional heads partnering together with the ministry of women affairs and the support of the minister of for national planing,"
It's an exciting time to be here because really we are talking about the implementation of the agenda 2030 but also 2063 and for us, it's about how do we support Nigeria and it's a very difficult context to do more and to do scale so every body feels it.
Continuing she said "We know that there many lessons that have learnt and there challenges that we have but we have some successes from the North East all the way to the South.
"We want to make sure that we do more so that we can see the scale of this, particularly from the women at the centre.