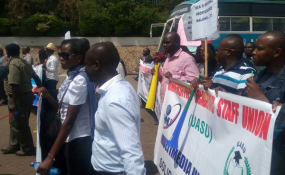 Photo: Brian Moseti/Daily Nation
By Ouma Wanzala
University lecturers are the major losers in the Sh10 billion revised payment matrix that was released on Wednesday by a vice-chancellors committee chaired by Prof Francis Aduol.
This is after their allocation was slashed by about Sh500 million and which will now go to non-teaching staff under- Kenya Universities Staff Union (Kusu).
In the first payment schedule, the lecturers had been allocated Sh6 billion but now will get Sh5.04 billion for basic salary increase and Sh546 million for house allowance.
Non-teaching staff who had been allocated Sh3 billion will now get Sh3.5 billion with Sh383 million going to house allowance.
Junior level staff under Kenya Union of Domestic, Hotels, Educational Institutions, Hospital and Allied Workers (Kudheiha) will get Sh1 billion with no addition as they had previously been allocated Sh1 billion.
In total Sh8.87 billion will be used to pay salary arrears while Sh1.031 billion will be used to pay house allowance arrears.
On Wednesday, Prof Aduol confirmed that almost all universities have received their share of the Sh5.2 billion as had been promised by the government.
"Those that I have checked with have confirmed they have received their money. I have not received any complaint so far," Prof Aduol told the Nation.
On Tuesday, universities called off their two-week strike after the government agreed to release the cash. It had previously released Sh4.8 billion.
The payment matrix indicates that University of Nairobi will get the lion's share of the Sh10 billion increment.